"Thrift Shop" – Macklemore: NV Parés Baltà Cava Brut
Tasting Note:
Eyes: clear, med lemon, bubbles
Nose: clean, med+ intensity, developing, yeastiness, rubber, earth, slight herbaceous, mineral, citrus, green apple, citrus, skunky
Mouth: dry, aggressive bubbles, med body, med+ acid, med intensity, med- alcohol, dry and savoury finish, citrus, earth, apple skin, citrus, green apple, herbs, med+ length
All in all: Good quality: this traditional style of Cava has a long and earthy length framed by structure, though the overall character is relatively uncomplicated. Drink now, not suitable for ageing.
Identity Guess: Mid-priced Non-Vintage Cava from Spain.
Is really: Mid-priced Non-Vintage Cava from Spain.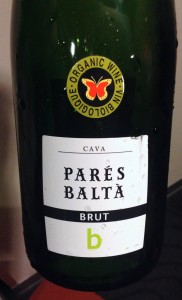 [Tasted during WSET Diploma class – Section 2 – Week 4]
This was a Cava that I definitely expected to be Cava, in a contrast to the cleaner and more steely style that we tried right before this one. A classmate ran ahead to the finish line and guessed this as a Crémant de Jura. Head-scratcher. But I applaud the confident swan dive into the pool of certainty.
The wine, in a sense, smelt "off". But not in a bad way – just an off-beat sort of hipster way. Compared to the previous Cava we had in the line-up, this was much more earthy and herbal, which I can only guess stems from less Chardonnay usage and more Xarel-lo in the blend. It was almost a skunky sort of herbaceous quality, but apparently in some instances, the earthy character can be mistaken for the overt yeasty character in some Champagnes.
There was something appealingly second-hand and unwieldy about this wine. It was clunky yet careless but full of character; off-beat and lively.
Macklemore, can we go wine shopping?
Producer: Parés Baltà
Designation: Brut
Region: Spain
Sub-Region: Cava DO
Variety: Parellada, Macabeo, Xarel-lo
ABV: 11.5%
Vintage: NV
Tasted: January 24, 2014
Price: $20