Muscled jerk at the beach: NV Codorniu "Anna de Cordoniu" Cava Brut
Tasting Note:
Eyes: clean, med- lemon, bubbles
Nose: clean, med- intensity, youthful, green apple, citrus, mineral, pear, hints of stone fruit, hint yeastiness
Mouth: dry, aggressive mousse, med acid, med- body, med- alcohol, med- intensity, green apple, citrus, hint bitterness, med length, pear, lemon, green apple, melon
All in all: Good quality: though well-balanced and clean, the wine seems a bit simple and short. Drink now, not suitable for ageing.
Identity Guess: Inexpensive Non-Vintage Sekt from Germany.
Is really: Mid-priced Non-Vintage Cava from Spain.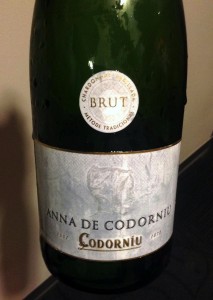 [Tasted during WSET Diploma class – Section 2 – Week 4]
Though I find myself agreeing with most of the write-ups and wine spiels in Tom Stevenson's sparkling wine bible, this is one of those moments where I straight-up just don't. The rating – or overall comment, rather – on this wine, is that it's "extraordinarily exceptional", which equates to the author's prestigious 2-star stamping. But these bubbles seemed so fantastically boring to me.
The wine is made from a majority of Chardonnay, which is both shrug-worthy and perhaps shocking. The former mainly due to the clean, crisp, and neutral style – but the latter, because of the rather low proportion of traditional Cava grapes used. Codorníu and Freixenet are the two main big boy houses of Cava. But unlike Freixenet, Codorníu finds itself being a little bit more progressive, with the house pushing for the usage of the non-traditional grape.
This isn't to say that Chardonnay is the unneeded foreign germ in the recipe of Cava – because I believe that it can add depth and finesse as it does in other traditionally made sparklings. I just don't think that it fits the bill in this case. At one point I stamped this as acceptable quality as did at least one other classmate of mine (who also guessed its identity as Prosecco). Perhaps it's the short nine-month period of ageing on the lees which gives it too clean of a character, but one perceptive classmate picked up on some yeastiness, where others didn't. Impressive, to say the least.
The wine was more "brute" than "brut", with aggressive bubbles and a clean-shaven profile attempting to muscle their way in to impress you rather than let the flavours do their enticing. Anna must have had quite the arms. But it reminds me more of that archetypal muscled jerk at the beach. (But maybe I just miss the sun.)
Producer: Codorniu
Designation: "Anna de Codorniu"
Region: Spain
Sub-Region: Cava DO
Variety: Chardonnay (70%), Parellada (15%), Xarel-lo (15%), Macabeo – according to Tom Stevenson's World Encyclopedia of Champagne & Sparkling Wine
ABV: 11.5%
Vintage: NV
Tasted: January 29, 2014
Price: $17