Thursday in a bottle: NV Jacob's Creek Chardonnay Pinot Noir Brut
Tasting Note:
Eyes: clear, pale gold, bubbles
Nose: clean, med intensity, developing, mineral, hint spice, hint yeast, bread dough, ripe green apple, peach, melon, buttery
Mouth: dry, aggressive mousse, med- body, med+ acid, med- alcohol, med flavour intensity, med length, mineral, citrus, lemon, floral, ripe green apple, stone fruit, melon
All in all: Good quality: there is a moderate amount of complexity wrapped up by a balanced structure, but the wine shies away in intensity and length. Drink now; not suitable for ageing.
Identity Guess: Mid-priced Non-Vintage Cava from Spain.
Is really: Inexpensive Non-Vintage sparkling wine (transfer method) from Australia.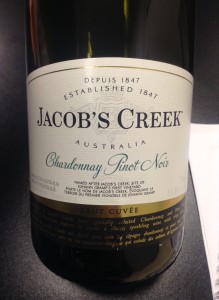 [Tasted during WSET Diploma class – Section 2 – Week 3]
I didn't find this wine quite exciting at first. It's a bit of an in-between sparkler (that is, between the retention of fruitiness that is a typical tank method sparkling wine; and the generally more autolytic and finely moussed traditionally-made sparkling wine), but that's exactly what the transfer method results in, flavour-wise, really.
That being said, this was pretty good value. There were hints of autolytic character – namely the yeasty and bread dough-like components – which melded together with the subtle aromas of ripe apple, peach, and melon. There was also a bit of buttery malolactic character which arose due to the early picking of the grapes, which retains fruity aromas but also retains a larger proportion of malic acid. The malic acid is then converted to lactic acid. Yay, science!
(What if there was a Magic School Bus episode on wine, except everyone was an adult? Can someone make this?! #WSET)
The wine was the same on the palate. Generally medium components with echoing flavour characteristics.
The wine is ripe, bright, round, positive, and optimistic. It's certainly not a wow-factor wine, but it's certainly fantastic for what you get at $14. It's sort of like Thursday afternoon, where the anticipation of Friday itself is exciting – but it's still not Friday. It's kind of like HEY LET'S CELEBRATE! (but not too much!)
Producer: Jacob's Creek
Designation: Brut
Region: Australia
Sub-Region: N/A
Variety: Chardonnay (75%), Pinor Noir (25%) – according to Christie's World Encyclopedia of Champagne & Sparkling Wine
ABV: 11.5%
Vintage: NV
Tasted: January 22, 2014
Price: $14