The Ugly Duckling: Gonzalez Byass Tio Pepe Fino Sherry
Tasting Note:
Eyes: clear, pale lemon, legs
Nose: clean, med+ intensity, developing, white almonds, brine, citrus, hint pear, mineral
Mouth: dry, med body, med- acid, light fortification, med+ flavour intensity, salty, brine, white almonds, citrus, pear, hint butter, med length
All in all: Good quality: The wine's simple fino flavours are intense and concentrated, wrapped up by a fresh and balanced structure, but isn't too persistent. Drink now: not suitable for ageing.
Identity Guess: Mid-priced Fino Sherry from Spain.
Is really: Mid-priced Fino Sherry from Spain.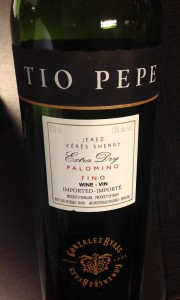 [Tasted during WSET Diploma class – Section 2 – Week 2]
The Palomino grape is a bit of a boring jerk in its grape form, but it's able to blossom into several types of sherries. Out of all types, I find Fino the weirdest – and sometimes – the most intriguing. I understand the general nutty appeal of other sherries, but the brine, white almond, and citrus can sometimes be a bit of an enigma to some people. So really, Palomino can be the ugly duckling that just happens to stay ugly and weird.
On one hand, I understand why no one will touch Fino with a 10-foot pole (I'm actually laughing because I realized this is a thing though), but I also feel like there's probably some food pairing I'm missing, here. There was a discussion in class about how Fino sherry really is a food wine. And I'm optimistically wondering and gazing off into the distance (complete with growling stomach), wondering if Fino can possibly be a catch-all versatile firecracker to Filipino food. Or other food I haven't considered, for that matter. I'm legitimately going to test it out.
Perhaps Fino will be the future hero to a young generation full of Instagram foodies. That sounds scary and exciting. You heard it here first, folks! We're rooting for you, ugly Pal-omino!!!
The wine: it was very typical Fino sherry, with white almonds, brine, mineral, citrus, and hints of pear. The palate was just as intense, with a rounded structure, muted acid, and a hint of buttery character.
I'm going to bed before I eat everything.
Producer: Gonzalez Byass
Designation: Tio Pepe
Region: Spain
Sub-Region: Jerez
Variety: Palomino
ABV: 15%
Vintage: NV
Tasted: January 15, 2014
Price: $22