Katniss Everdeen, the Girl On Fire: 2009 Scali Pinotage
Tasting Note:
Eyes: clean, med+ ruby, legs, (high viscosity)
Nose: clean, pronounced intensity, developing, candied red raspberry and strawberry, plum, cedar, smoke, vanilla, hint VA, blackberry, hint herbal, medicinal, mocha, ash, earth, white pepper, vegetal, dill, leather
Mouth: dry, med+ bodied, high acidity, high ripe tannins with a hint of coarseness, high alcohol, med flavour intensity, med+ length, red fruit + black fruit, ripe red cherry, raspberry, blackberry, hint VA, mineral, wood, ash
All in all: Very good quality: the wine is structurally intense and concentrated. While the balance is slightly off with a slightly tight tannin structure, the flavours are complex. Relatively long length. Can drink now, but has potential for ageing.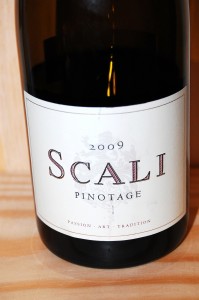 Pinotage is a grape that I've always been fascinated by. It's a polarizing grape at which wine drinkers subconsciously learn to either smile or shudder from the mention of its name (may the odds be ever in your favour), and the subsequent hilarious discord that it produces in the wine world makes me love it even more. The grape produces wines which aren't strangers to levels of volatile acidity, which expresses itself with a pungency, sometimes in a vinegary or nail polish-y sort of way. The contradictory grape is great because it can express a cornucopia of non-fruity aromas but isn't elegant about it like top-notch Savennières or aged Bordeaux, and instead it Harlem Shakes its way into your nasal cavity without giving a shit about what you think. Pinotage breaks rules.
I'm not going to lie – I bought and opened the wine with the intention of likening it to Katniss Everdeen (the heroin to the Hunger Games trilogy, if you weren't in the loop of LIFE) and it really does make sense. The ashy earthiness is reminiscent of the coal mines of District 12 and the arena of the annual deathly sport. Pinotage usually has a demurely vibrant character that mirrors the silent and present strength of Katniss, and this particular Pinotage has a heavy-handedness that doesn't completely translate into being full-bodied and instead has a slight agile lightness and roundness. The tannins hide a bit of character in the mouth, and despite the expected full-bodied character, there almost seems to be a bit of a hollow midpalate.
Though the wine has a bit of a typical medicinal character (that I will shamelessly and obviously compare to first-aid kits that the Hunger Games contestants might use), the wine has more of a deep fruitiness and less of an overt meaty character and loud ripe pungent sweet spice that I've seen in other examples of Pinotage – perhaps this is due to young age? This wine sort of opens up with that sort of character. I'm inexperienced with Pinotage. But the high and balanced alcohol is definitely fitting for The Girl On Fire.
I'm currently reading the first book after seeing the first two movies in the series. The 15% ABV of this wine is telling me I should eat something or drink water, but I almost feel guilty doing that while reading the book.
Producer: Scali
Designation: N/A
Region: South Africa
Sub-Region: Voor Paardeberg WO
Variety: Pinotage
ABV: 15%
Vintage: 2009
Tasted: December 25, 2013
Price: $40