Peeta Mellark, the Boy with the Bread: NV Zuccardi Blanc de Blancs Cuvée Especial
Tasting Note:
Eyes: clear, med- lemon, bubbles
Nose: clean, med+ intensity, developing, brioche, bready, hint nuttiness, orchard fruit, red apple, citrus, hint minerality, hint butter/malolactic?, hint spice
Mouth: dry, med- body, high acid, med alcohol, med+ flavour intensity, citrus, lemon, red apple, green apple, mineral, bread, brioche, hint nuttiness, citrus zest, med+ length
All in all: Good (to very good) quality: the wine has impressive structure and length. There is a clunkiness in balance with acidity and alcohol that leads to a slight lack in finesse, but there is an interesting and present character. Drink now, but has potential for short-term ageing.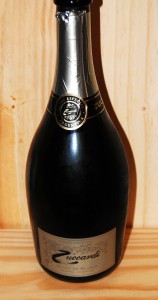 I bought this particular bottle because I was both intrigued by its uniqueness and tired of bottles of sparkling that disappointed me. I'm a sucker for anything(/wine) that has underdog status, so a pretty label claiming a traditional method sparkling from Argentina is definitely up that alley. Plus, I thought it would be a nice Peeta Mellark addition to the Katniss Everdeen wine I just reviewed. Huzzah?
It fits. The wine has a surprising amount of legit autolytic character. It's a bit more elegant on the nose, and I swear my red-apple-nose and green-apple-palate thing isn't just a snobbish-sounding differentiation: the nose definitely has a more subtle but ripe apple brioche thing going on, but the palate has an slightly exuberant acidity that zips the colour out of the red apple and more into the green. It finishes with a bit of a citrus zest curtsy, and there is a gentle lacing of autolytic character and slight nuttiness throughout the palate.
And I really hope I'm not just pigeon-holing my wines into character slots, here, because it actually really fits – Peeta Mellark is the baker's boy from District 12 in the Hunger Games series, and we eventually learn that he's sort of this artistic but slightly romantic and physically clumsy treat. And it sort of works here, if you make connections to the elegant aromas, the autolytic/bready nose, and the contrasting slightly clunky palate.
This is a couple bucks more than some Crémants and some other traditionally-made sparklings. Although it's slightly less elegant that some I've tried, it's also easily toastier. Though I've learned to love my Champagne, I'd easily skip them for the frugal New Year's Eve and go for this. If this is even on the frugal side. Maybe not.
I'm currently in the middle of the second book in the Hunger Games Trilogy (Catching Fire). I thought the books would be more detailed, but it turns out the films did a superb job fleshing out the novels. Though I like Peeta, I probably identify with Haymitch, the constantly drunk winner-loser and mentor to tributes in District 12.
Producer: Zuccardi
Designation: Cuvée Especial, Blanc de Blancs
Region: Argentina
Sub-Region: Mendoza
Variety: Chardonnay
ABV: 12.5%
Vintage: NV
Tasted: December 28, 2013
Price: $37