The chill person at that one house party: NV Joan Raventos Rosell Cava Brut
Tasting Note:
Eyes: clear, med lemon, bubbles
Nose: clean, med intensity, developing, green fruit, apple, citrus, slight yeastiness, hint of butter
Mouth: dry, med body, med- to med acid, med- flavour intensity, med- length, med- alcohol, citrus, lemon pith, aggressive and persistent bubbles, slightly bitter finish
All in all: Good quality: the non-fruity character of this Cava gives way to slightly more complex hints of bread and butter with a balanced character. But there is a lack of structure and some complexity. Drink now; not suitable for ageing.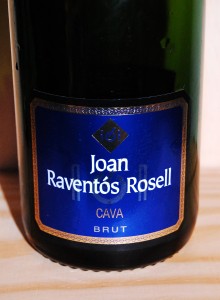 Yay! So a miniature celebration was in order after having completed the WSET Diploma Unit 4 (Spirits) and half of Unit 1 (Business) exams and essays. Slaved over cue cards and confusing non-wine tastings plus sleepless nights over essays (from which I'm still unfortunately recovering), and this wine serves both an homage to the past and future – I thought it would be cool to retry a wine I had a little more than a year ago in my WSET Level 3 class, and maybe refresh my actual wine tasting ability I'll need for January. My tasting notes will probably be a little more tight and specific compared to a year and a half ago, and I'm slightly scared to see how different my tasting notes will be. I'm glad there's no time limit or fear of reading out this time around.
The wine is as close to itself as I can remember. Compared to other Cava I've tried, there is a less fruity and more elegant lightness to it. Fruits are a bit hard to determine on the nose, but there is a marked yeastiness – perhaps not as marked as I remember. There is a hint of butter stemming from what I'm guessing is either MLF or the addition of Chardonnay.
The only qualm I have with the wine is its structure – thankfully enough that was the same issue that was brought up when we tasted it in class a year ago. Ironically I sometimes enjoy a sparkling with a lower acidity since the bubbles already add a refreshing character, but the slight lack in structure gives it a bit of a knockdown in terms of objective quality. It's a bit of a tradeoff, because it's a bit more complex than some other Cava in the price range.
It's a mellow but slightly more complex basic sparkler – it's that one quiet person at that house party who doesn't get as drunk as everyone else does and you end up having an intelligent conversation with them but you can't really tell because you're, well, drunk.
Producer: Joan Raventós Rosell
Designation: Brut
Region: Spain
Sub-Region: Cava DO
Variety: Macabeo, Parellada, Xarel-lo, Chardonnay
ABV: 11.5%
Vintage: NV
Tasted: November 13, 2013
Price: $22