NV Joan Raventos Rosell Cava Brut
Tasting Notes:
Eyes: clear, deep lemon, bubbles
Nose: clean, med+ intensity, developing, yeasty, funk, metallic, floral
Mouth: dry, med to med+ body, med- to med acid, med to med+ length, bubbles don't really last
All in all: Good quality; drink now (this particular batch was losing its structure).
[Edit: retried this on November 13, 2013.]
What a great value. From what I remember, this guy had a decent amount of stinky yeast on the nose. A quick internet glance tells me people didn't like this as much as I did, but I think it had a nice amount of complexity despite the agreed-upon falling structure. I would definitely buy this again to reaffirm my thoughts. It's quite possible that I'm praising it for more than it's actually worth, but then again it looks like I fiercely circled "yeasty" in my notebook. I'll hopefully revisit this one but we haven't brought it back to the shop since the summer.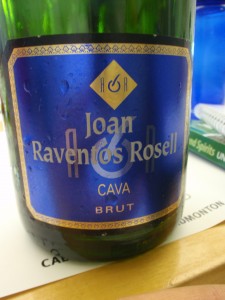 Producer: Joan Raventós Rosell
Designation: Brut
Region: Spain
Sub-Region: Penedes
Variety: Macabeo, Parellada, Xarel-lo, Chardonnay (some proportion of these grapes; I don't actually know)
ABV: 11.5%
Vintage: NV
Tasted: June 11, 2012
Price: $25