2007 Vietti "Masseria" Barbaresco
Tasting Note:
Eyes: clear, med- tawny, legs
Nose: clean, pronounced intensity, developing, floral, tar, cherry, wood, hay, spice, dried herbs, dried red fruit, earth, mineral, wood, hay
Mouth: dry, full body, high coarse tannin, high acid, med+ alcohol, long length, med flavour intensity, sour cherry, strawberry, earth, tar, mineral, olive, oak, savoury
All in all: Very good quality: A high acid and amazingly mouth-drying tannins are woven well if not slightly aggressive – but give impressive balanced structure. The levels of complexity are high, and the wine is persistent. Can drink now, but has potential for ageing.
Identity Guess: Premium (Barbera/Sangiovese/Nebbiolo) from Piedmont, Italy; 6 years old.
Is really: Super-Premium Barbaresco from Piedmont, Italy; 6 years old.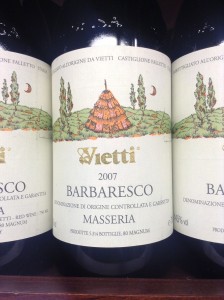 [Tasted during WSET Diploma class – Section 1 – Week 11]
Though I'm not the biggest Nebbiolo evangelist (yet), the idea of the grape fascinates me. The grape is deceivingly pale in colour but is high in alcohol, acid, and tannin. Thus, it's supposed to be such a roughhouse, but it's not. It's elegant despite the tannin. I often mistake the body for being lighter than it really it, even though 14.5% is blatantly high on the alcohol scale, inevitably leading to a heavier body.
Classic aromas? I'm reminded of the "tar and roses" mantra. But it's true – the dried foral elements often couple with this distinct dark forest-like earth. Sour red fruit and other savoury elements finish its personality. Nebbiolo is wholly masculine and feminine all at the same time – and as beautiful as it really sounds, it's a bit more than an acquired taste. It really is a wine geek's grape.
Vietti is probably one of the most well known premium producers of Italian wines around these wine hills, and the Barbaresco was no exception. The tannins are high, coarse, and mouth-coating, almost right down to your lips, even in a riper year. But they're strikingly balanced.
It's often said that Barbaresco is lighter and more elegant than Barolo, but some experts say that distinction is slowly greying out. I believe it. I've had Barolo that were slightly softer in tannin, and some Barbaresco shows no mercy.
Producer: Vietti
Designation: "Masseria"
Region: Italy
Sub-Region: Barbaresco DOCG, Piedmont
Variety: Nebbiolo
ABV: 14.5%
Vintage: 2007
Tasted: June 19, 2013
Price: $125