2010 Peter Lehmann "Clancy's" Semillon Sauvignon Blanc
Tasting Note:
Eyes: clear, med- lemon, legs
Nose: clean, med intensity, youthful, green apple, honey, pear, spice, mineral, hint of green herbal character, hints of orange
Mouth: dry, med body, med+ acid, med alcohol, med flavour intensity, med finish, lemon, lime, citrus, green apple, pear, mineral
All in all: Good quality: there is a freshness with the well-balanced med+ acid along with a good concentration of fruit, but there is a simplicity that also shows through with warming alcohol. Drink now; not suitable for ageing.
Identity Guess: Mid-priced (Chardonnay/Semillon/Sauvignon Blanc/Sauvignon Blanc + Semillon Blend) from Bordeaux; 2 years old.
Is really: Mid-priced Sauvignon Blanc Semillon Blend from Australia; 3 years old.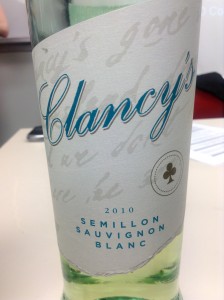 [Tasted during WSET Diploma class – Section 1 – Week 10]
"Orange" is a common descriptor in Britain for Semillon. Hmm. I can see it.
Sauvignon Blanc + Semillon makes for an interesting blend in their dry forms. It makes sense that the honeyed, tropical, and flabby-when-ripe botrytized grape is freshened up by the fresh-flavoured grape, but in their still forms, it's almost exactly what you'd expect: a girthed-up Sauvignon Blanc with more body and less intensity, replaced by the neutralizing honeyed and soft citrus of Semillon.
To me, the first blends that come to mind exist in Bordeaux, Australia, and Chile – although I'm sure I'm missing many more regions. In Bordeaux, it's a little more elegant – more structure, with fresh herb-like Sauvignon character; in Australia, fruity, young, and soft; and in Chile, a more stewed and heavier character, with the herb-y Bordeaux expressed as the greenness more reminiscent of green bell peppers further softened by the Semillon.
And that's exactly what this was – and easy-drinking, soft expression which probably has the least amount of obvious green Sauvignon character than you'd expect of the regions I've mentioned (at least to my experience, so far). The guess of white Bordeaux was nothing more than a shot in the dark, perhaps as a shadow to the stunning White Bordeaux we tried a couple weeks ago that no one was sure what to think about, myself included. Ah, well.
I've never liked the shape of these bottles, but the wine was better than I would have expected. Although simple, the balanced acid is a redeeming quality to the also slightly imbalanced alcohol, but the flavours are soft and elegant, and this isn't bad for 17 dollars at all.
Producer: Peter Lehmann
Designation: Clancy's
Region: Australia
Sub-Region: Barossa Valley
Variety: Semillon, Sauvignon Blanc
ABV: 11.5%
Vintage: 2010
Tasted: June 12, 2013
Price: $17