2009 Hiedler "Urgestein" Riesling
Tasting Note:
Eyes: clear, med lemon, legs
Nose: clean, youthful, med intensity, mineral, citrus, lemon, lime, hint of petrol, slate, pear, white flowers
Mouth: dry, med body, high acid, med alcohol, med flavour intensity, med length, mineral-driven, citrus, lemon, lime, stony finish, green fruit
All in all: Good quality: there is a good concentration of flavours with a well-balanced structure that may benefit from some ageing, as the complexity is rather modest at the moment. Drink now, but has potential for short term ageing.
Identity Guess: High-priced (Riesling/Pinot Gris/Muscat/Gewurztraminer/Chenin Blanc) from Germany; 2 years old.
Is really: Mid-priced Riesling from Austria; 4 years old.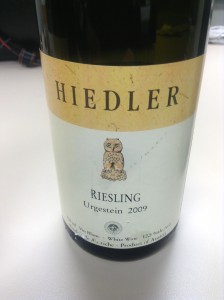 [Tasted during WSET Diploma class – Section 1 – Week 10]
At the very start of this day's class, we were polled by the instructor: what did we consider the "most noble" white grape variety? While she explained that around 65 percent of people would say it was Chardonnay, the rest would say Riesling; the class was split in that sense, but I couldn't raise my hand for either, and did this sort of I'm-not-sure-comme-ci-comme-ça hand motion. Ironically, both grapes are arguably rather out of fashion. Chardonnay is making a slow comeback, but Riesling has a reputation of being sweet. And it's not always sweet.
It's not always sweet.
NOT ALWAYS SWEET.
not always sweet.
Enter this wine: I'm slightly frustrated, because Austria did enter my mind, but the biased part of me that said "no, that can't be because why would the instructor choose Austria?" instead made me choose a dry German version, which in retrospect, makes less sense. The wine was clunkier than the elegant "lime sorbet" (as described by the instructor) versions of the Mosel. The wine was bone dry with high acid and a concentration that I thought was worthy of a very good quality designation. But I was probably overrating this wine.
Flavour-wise, the wine was a steely version which was citrus and mineral-driven, with hints of developing petrol characteristics. One classmate actually guessed this as Loire Chenin Blanc, which I thought was weird, but is apparently a common mixup with wines like these. I'm sure this could age even just for a couple of years, as it has the structure and hints of classic Riesling development.
It's tough seeing people dismiss Riesling because they think its sweet, but perhaps I can convince some customers to explore areas like Australia and Austria.
Producer: Hiedler
Designation: "Urgestein"
Region: Austria
Sub-Region: Niederösterreich
Variety: Riesling
ABV: 12.5%
Vintage: 2009
Tasted: June 12, 2013
Price: $25