2009 Cloudy Bay Chardonnay
Tasting Note:
Eyes: clear, med lemon, legs
Nose: clean, med intensity, developing, oak, spice, butter, apple, pear, popcorn, melon, citrus
Mouth: dry, med+ body, med+ acid, med+ alcohol, med+ flavour intensity, butter, oak, nutty kernel, savoury
All in all: Very good quality: Well-concentrated fruit persists on the finish, and the acidity balances out the fuller body. The nose is a bit simple. Drink now, but has potential for short term ageing.
Identity Guess: High-priced (Chardonnay/Semillon/Sauvignon Blanc/Sauvignon Blanc Semillon Blend) from Sonoma, California; 2 years old.
Is really: High-priced Chardonnay from Marlborough, New Zealand; 4 years old.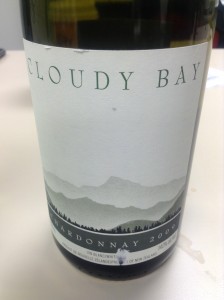 [Tasted during WSET Diploma class – Section 1 – Week 10]
Where Cabernet Sauvignon is the de facto red grape, I would argue that Chardonnay is the white version – grown everywhere, famously-known, and wrongly-hated. And I do say wrongly-hated, because it's such a versatile grape: from the steely versions in Chablis to the big and oaked cowboy bottles in California, it's such a shame that consumers wave it off. I remember helping out a customer who was looking for a Chablis – unfortunately, the ones we had were out of her price range, but upon helping her choose a leaner, cooler climate Chardonnay, the cringing "I hate Chardonnay" was uttered. Girl, don't even.
Although easy to grow, Chardonnay buds early, which means that this is probably why the Germans don't focus on a regional expression, and yet another reason why Champagne is pricey. Chardonnay isn't entirely disease-resistant either, and can be susceptible to powdery mildew, grapevine yellows, coulure, millerandage, and rot. A long list, but the amount of Chardonnay grown speaks for itself.
This was a very good representation of Chardonnay – typical ripe green fruit notes dominated by the savoury butter, spice, and kernel flavours, with a heavier body, modest acid, and oak on the palate. Buttery smoothness despite the higher-than-expected acid, which is nice. I immediately guessed a Chardonnay from perhaps a cooler pocket of California, but apparently that would be too hot for this example. Even the Mâcon in Burgundy was dismissed as being slightly too warm for this example. After some narrowing of our choices, we eventually ended up in New Zealand – and here we are.
I don't ever recall trying many Chardonnays of the New Zealand variety, but it's interesting how middling they can be – reminiscent both of the buttery kernel characteristics that you get in hotter climates, but still retaining a good amount of acidity.
Producer: Cloudy Bay
Designation: N/A
Region: New Zealand
Sub-Region: Marlborough
Variety: Chardonnay
ABV: 14%
Vintage: 2009
Tasted: June 12, 2013
Price: $31.50