2010 Borsao "Tres Picos" Garnacha
Tasting Note:
Eyes: clear, deep ruby, legs
Nose: clean, med+ intensity, youthful, red fruit, strawberry, raspberry, ripe, sweet spice, hint of leather
Mouth: dry, med+ body, med acid, med fine tannin, strawberry, raspberry, high alcohol, white pepper, sweet spice, herbs, med+ intensity, med+ finish
All in all: Good quality: a moderately complex and ripe expression of Garnacha is well-concentrated and has a high alcohol content that is relatively balanced. Drink now; not suitable for ageing.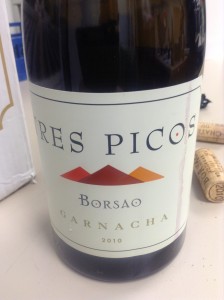 [Tasted during WSET Diploma class – Section 1 – Week 9]
Garnacha is one of those grapes that I think I like but never really choose to drink. Being a thin-skinned grape variety with lots of flesh, it produces lighter-coloured wines with lower tannins but can still produce a wine with a considerable amount of body and alcohol – although in drought and in hotter conditions, thicker skins and a deeper colour aren't unknown (like this wine), but all in all, this wine tends to oxidize quickly; read – drink most of these wines young.
It looks like there was a typo on our sheet – the online BC Liquor store website lists this as around $20 – our sheet says $28. Very surprising, and a much better value. Oz Clarke lists Bodegas Borsao's other Garnacha as a recommended wine to try (which is 5 dollars cheaper than this one), so now I'm curious.
The wine itself was delicious. Fruity, and a bit more residual sugar despite being dry: my tongue finally has something to play around with and analyze something here. The wine was smooth and unobtrusive from modest structural components, and the high alcohol was well-balanced. I'm adding Garnacha to the summer evening list. Also definitely a grape to introduce to the newer drinkers who aren't down with any big and furry grizzly bear tannins yet – for the most part.
I've read about the idea that a Garnacha with lower tannins can pair well with mild curries. I always thought that the high alcohol would ruin the match – but that's definitely something I have to try. Willingly.
Garnacha is one of those grapes I picture Game of Thrones characters drinking when I see goblets on screen. Fruity, alcoholic, and in an aerobic winemaking style. Glug.
Producer: Borsao
Designation: "Tres Picos"
Region: Spain
Sub-Region: Campo de Borja DO
Variety: Garnacha
ABV: 14.5%
Vintage: 2010
Tasted: June 5, 2013
Price: $28