2009 Sandalford Cabernet Sauvignon Estate Reserve
Tasting Note:
Eyes: clear, deep ruby, garnet rim
Nose: clean, pronounced intensity, youthful, cassis, oak, eucalyptus, dark cherry, black pepper, herbal, fennel, spice, blackberry
Mouth: dry, med+ body, med+ ripe tannin, med+ acid, med+ flavour intensity, med+ alcohol, med+ length, cassis, dark fruits, blackberry, spice, green, herbal, smoke, clove, floral
All in all: Very good quality: a ripe structure supports concentrated flavours. Although the alcohol is warming, the acidity adds a paradoxical fresh lightness. Drink now, but has potential for short-term ageing.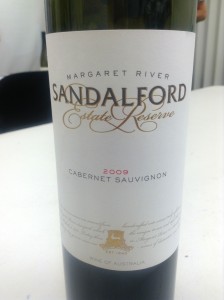 [Tasted during WSET Diploma class – Section 1 – Week 9]
Ah, Cabernet Sauvignon. The de facto red grape, and, in the game of ice cream flavours, is essentially the bucket of quintessential vanilla. In the theme of its masculinity, it has thick skins and relatively small berries, leading to a high pip to pulp ratio and a high amount of phenolics which contributes to darker-coloured wines and high tannin, respectively. Generally resistant to rot, and planted everywhere. The poster child for red wines, really, and a great vehicle for terroir. But despite its reputation for huge wines, it tends to be on the med to med+ scale in terms of its weight. So my mind is finally at ease when I come across slightly lighter versions.
And here we have a classic Australian example: typical dark fruit characteristics with hints of green (eucalyptus, mint) are the main notes, with spice in the back seat. The structure is impressive for a warm climate (acidification? If so, done well), and the concentration is good. There is a lightness or a refreshing quality despite the alcohol and body.
So far, I've seen this pattern of relative lightness and elegance (but not lacking in strength) with Margaret River wines, especially with Sandalford's Shiraz. Interestingly refreshing and almost relieving, with the trend of increasing alcohol levels of the decades both from climate change and stylistic changes. I think.
It's also interesting how similar in structural components that this was to a Saint-Estèphe we tried, but are still completely different and unique.
Producer: Sandalford
Designation: Estate Reserve
Region: Australia
Sub-Region: Margaret River
Variety: Cabernet Sauvignon
ABV: 14.5%
Vintage: 2009
Tasted: June 5, 2013
Price: $35