2008 Benziger Merlot
Tasting Note:
Eyes: clear, med+ ruby, legs
Nose: clean, med+ intensity, youthful to developing, plum, spice, oak, cherry, raspberry, floral, strawberry, red fruit, black fruit, juicy, sweet baking spice
Mouth: dry, med+ body, med fine tannin, med acid, med+ alcohol, med flavour intensity, med+ length, cherry, plum, spice, prune, vanilla, baking spice
All in all: Very good quality: there is a good concentration of fruit and developing characteristics here, and balanced structural components for Merlot. The alcohol is a little warming, but the wine has a long length. Drink now, but has potential for short-term ageing.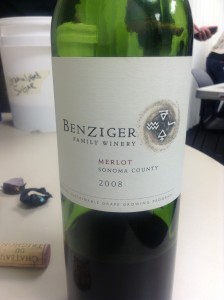 [Tasted during WSET Diploma class – Section 1 – Week 9]
Where Cabernet Sauvignon is vanilla, Merlot is chocolate, and the voluptuous grape that makes textured, fuller mid-palate wines is often blended with the former grape, sort of like a McDonalds vanilla-chocolate swirl ice cream cone.
It's an understandable shame that most Merlot produced are boring ready-to-drink styles with insipid and vague red and black fruit. Only once have I come across a Merlot (that I remember, anyways) during my WSET Intermediate class that was coaxed into an aged, fruit cake-y expression with a nose full of juicy dark fruit and sweet spice – and from BC, no less – an area that can be argued to be a straight up shitty home for Merlot. I'm sure we tried an aged Saint-Émilion as well, but something remarkable that comes out of BC is just mind blowing. Wah wahhhh. Just kidding.
This is a well done developing example of the grape, showing good concentration, structure, length, and those developing characteristics that can often be hard to find in a grape that ironically becomes the vanilla ice cream standard of wines. Dark fruits, plum, and oak share the stage with baking spice and a bit of that fruit cake quality (which smells better than it sounds), and the palate is appropriately voluptuous  with a med+ body – same as the Cab we had before it, but with a completely different texture. The label is cool too. Is calling it Game of Thrones-esque too much of a stretch?
Among one of the first wines I tried in a restaurant was a BC Merlot (legitimately surprising) in a BC-themed flight of three. I dipped into a disappointing Merlot phase (much like that Zinfandel phase) but perhaps staying out of BC and seeking out better examples is the key. For Merlot, anyways.
Producer: Benziger
Designation: N/A
Region: USA
Sub-Region: Sonoma County AVA, California
Variety: Merlot
ABV: 14.5%
Vintage: 2008
Tasted: June 5, 2013
Price: $28