2006 Viña Mayor Ribera Del Duero Reserva
Tasting Note:
Eyes: clean, deep ruby, legs
Nose: clean, med+ intensity, youthful (to developing), vanilla, leather, oak, red fruit, black fruit, white pepper, tobacco, cigar box, black cherry, prune, raspberry, sweet baking spice, smoky, cola, hay, herbal
Mouth: dry, med body, med+ acid, med+ fine tannin, med+ alcohol, med+ length, med flavour intensity, savoury, black cherry, blackberry, black pepper, cassis, cinnamon, cranberry
All in all: Very good quality: A concentrated amount of fruit, high structure, and complexity outweigh the slightly imbalanced alcohol and lack of finesse and elegance. Drink now: not suitable for ageing.
Identity: Mid-priced (Tempranillo/Barbera/Sangiovese/Pinot Noir/Nebbiolo/Zinfandel) from Spain.
Is really: High-priced Tempranillo from Ribera del Duero, Spain; 7 years old.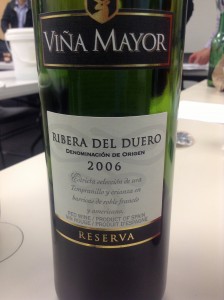 [Tasted during WSET Diploma class – Section 1 – Week 8]
Fuller-bodied, more classic expressions of Tempranillo can often be so deceiving, but for me – but the brooding leathery and oaky secondary characteristics combined with the melancholy-toned darker fruits cross with an underlying tone of oxidation are often landmarks – "poetic" and noteworthy enough for me to type, but my nose still needs a handle on identifying the wide range that this grape can produce. It's a versatile one. This is the dark and leathery route.
Chosen as a good example of this grape, the wine had a deep but balanced extraction, a long length, good structure, but lacked a bit of finesse and elegance. I underestimated both the complexity and quality, and I'm ashamed to say that at first I thought this was a Zinfandel. Lots to learn. Side-to-side comparisons help a lot.
Ribera del Duero is very continental, but a high altitude can tame the hot temperatures. Large amounts of sunlight lead to better ripening while acidity is still retained due to cool nights from both continentality and altitudes. Wines from here are also of the "Tinto Fino" variety of Tempranillo – darker and more powerful than Rioja in the northeast, but from what I've tasted, not as powerful as the "Tinta de Toro" clone to the southwest.
Great value for 30 dollars. For a grape with overwhelmingly great potential viticulturally and, well, taste-wise, it's a shame that the majority of consumers don't know what the hell Tempranillo is. We'll hopefully be seeing more regions mould this grape to their own identities more in the future.
Producer: Viña Mayor
Designation: Reserva
Region: Spain
Sub-Region: Ribera del Duero
Variety: Tempranillo
ABV: 13.5%
Vintage: 2006
Tasted: May 29, 2013
Price: $29