2011 Ata Rangi "Crimson" Pinot Noir
Tasting Note:
Eyes: clean, med- ruby, legs
Nose: clean, med+ intensity, youthful, red fruit, strawberries, cherries, raspberries, spice, cloves, nutmeg, mushroom, herbal, earthy
Mouth: dry, med body, med+ acid, low fine tannin, med+ alcohol, med length, med+ flavour intensity, red fruits, strawberry, cherry, mushroom, vegetal, baking spice
All in all: Good quality: the balance is generally showing well, especially with the high acidity, but the alcohol shows on the finish. There is also a concentrated amount of fruit and a moderate amount of Burgundy-like complexity.
Identity: Mid-priced (Tempranillo/Barbera/Sangiovese/Pinot Noir/Nebbiolo/Zinfandel) from California; 4 years old.
Is really: High-priced Pinot Noir from New Zealand; 2 years old.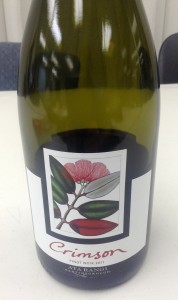 [Tasted during WSET Diploma class – Section 1 – Week 8]
We were originally supposed to try an Old World Pinot but it ended up being graced by the likes of TCA. Which is sort of like waking up to find that your kettle is broken. Not that important, but somehow, still fifty shades of shitty. So, our instructor disappeared for five minutes and sourced this bottle out from who knows where. Wahoo!
Definitely New World on the nose. The upfront (yet elegant) red fruit gave it away, and I jumped to conclusions and headed straight to California as a guess. I missed a lot of the non-fruit components which I picked up afterwards, and New Zealand made much more sense. New Zealand Pinot has quite a distinctive fruity yet funky and spicy nose that can often be hard to miss (except when you're me).
Some noted that the Pinot vegetal and mushroom characteristics were a little more spoken on the palate. There was a little bit of well-integrated woody characteristics as well, and the fruit was concentrated – although the finish lacked a bit of balance.
In terms of the umbrella of New Zealand, apparently wines from this region (Martinborough) will be the most Burgundian (which makes sense according to the analyses and conclusions of some classmates), with Central Otago having a distinct sage and darker character, and Marlborough being the lightest. So far (and to me), New Zealand  Pinot Noir generally falls between the Burgundian earth-driven styles and the fruit-driven Californian style, and this is a good example of that.
Producer: Ata Rangi
Designation: "Crimson"
Region: New Zealand
Sub-Region: Martinborough
Variety: Pinot Noir
ABV: 13.5%
Vintage: 2011
Tasted: May 29, 2013
Price: $28