2011 K Vintners Viognier
Tasting Note:
Eyes: clear, pale lemon-green, legs
Nose: clean, med+ intensity, youthful, mineral, floral, white flowers, lime, lemon, hint of stone fruit, lemon, pineapple, oak, nutmeg, sweet spice
Mouth: dry, med+ body, med+ acid, med alcohol, med+ intensity, med+ length, floral, citrus, spicy apple
All in all: Good quality: although personally appearing neutral in characteristics, a marked floral complexity follows a balanced finish and a concentrated palate. Drink now; not suitable for ageing.
Identity guess: Mid-priced (Trebbiano/Pinot Blanc/Viognier) from Italy; 2 years old.
Is really: TBA-priced Viognier from Washington; 2 years old.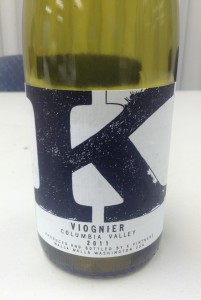 [Tasted during WSET Diploma class – Section 1 – Week 8]
Even after having had an identity guess for this wine, I still noted down a marked floral character from this. I had thought this was more neutral at first – perhaps it needed to warm up. But the floral characteristic with spice and soft expressions of stone/tropical fruit would lead this to Viognier.
After having tasted the German Pinot Blanc, I was so sure that this wasn't Viognier. Texture-wise, this is a much more fresh expression to what I expected – Oz Clarke's verbal paintings of voluptuous fruit and enticing creamy notes lead me to believe that the Pinot Blanc was Viognier. Washington is the one of the last places I would expect this from – a calmer more mineral tone lead me to believe that this was certainly a cooler climate (and perhaps even Old World), but it lacked a bit more flamboyance than I would expect, although there was more intensity on the nose and palate than I had originally noted. Suddenly Washington makes sense, but I hardly knew they grew Viognier there.
Viognier is a grape quite known for its phenolic characteristics: an example of a grape that maybe needs more care in vinification opposed to its growing, due to a common bitterness that it might have. This makes sense. I've hardly come across many affordable Viogniers that I've fallen for. Condrieu is on the spit bucket list.
Although less loud than I had expected, this style of Viognier reminds me of some of the Pays d'Oc versions I've had, but better. The less impressive restrained versions have had that imbalanced mineral savoury bitterness without much fruit and balance. Australia seems to be pleasantly surprising to me, and is perhaps less of a gamble when it comes to Oz Clarke's poetic descriptions of the grape – but this is just based on what I've had so far.
Producer: K Vintners
Designation: N/A
Region: USA
Sub-Region: Columbia Valley AVA, Washington
Variety: Viognier
ABV: 13.5%
Vintage: 2011
Tasted: May 29, 2013
Price: $38 (thanks to Brian for the info); Edit (June 19, 2013): we were given a price of $27. Interesting?