2011 Heggies Vineyard Chardonnay
Tasting Note:
Eyes: clear, med- lemon, legs
Nose: clean, med intensity, developing, yoghurt, lees, citrus, butter, oak, vanilla, stone fruit
Mouth: dry, med+ body, med alcohol, med+ acid, med+ flavour intensity, creamy, lees, citrus, textured, savoury, cheese, med+ finish
All in all: Good quality: wonderful balance is displayed within the components on the palate and the concentration is present, but there is an (inoffensive) slight lack in complexity.
Identity guess: High-priced Pinot Gris from BC; 3 years old.
Is really: High-priced Chardonnay from Australia; 2 years old.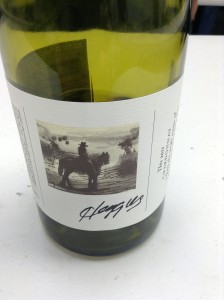 [Tasted during WSET Diploma class – Section 1 – Week 6]
Despite my fascination over a fresher and comparatively lighter style of Chardonnay (yet of lower quality) that we compared this to, here's one where care has coaxed it into a balanced expression of the variety. Apparently high altitude is what gives this wine its seemingly cooler climate characteristics (but still retaining that New World and Australian snazz of butter and lees) – most notably, a natural acidity compared to the more artificial one we compared this to.
The wine had a delicious kernel and nutty component, with some subtle vanilla notes and an undertone of stone fruit. There was also a distinct creamy lees component going on, and the whole wine seemed almost like an Old World New World intermediary for Chardonnay (although still retaining a dominant New World identity), sort of what I get with BC.
This is exactly what happened the same time last year – I think the times leading into summer are my Chardonnay months, and the creamy dairy-like texture on this wine really hit the spot (although we have to spit the spot right back out into a spit bucket so it's not like that lasts for long anyways). I crave creamy whites and heavy reds in the sunnier months. Typical Josh.
Producer: Heggies Vineyard
Designation: N/A
Region: Australia
Sub-Region: Eden Valley
Variety: Chardonnay
ABV: 12.5%
Vintage: 2011
Tasted: May 15, 2013
Price: $28