2012 Yellow Tail Chardonnay
Tasting Note:
Eyes: clear, med lemon, legs
Nose: clean, med- intensity, developing, oak (weird oak – chips?), smoke, melon, vanilla, bubble gum, confectionary
Mouth: dry (but noticeable residual sugar), low acid, med alcohol, med+ body, med flavour intensity, wood, melon, short length, citrus, vanilla
All in all: Acceptable quality: the strength lies in the existence of the non-intrusive flavour components and the med+ body, giving an impression of concentration, but a lack of acid leads to a tumbling structure, the finish is short, and there is a lack of real typicity. Drink now: not suitable for ageing.
Identity guess: Inexpensive Chardonnay from Australia; 2 years old.
Is really: Inexpensive Chardonnay from Australia; 1 year old.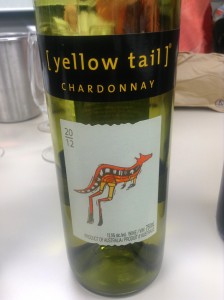 [Tasted during WSET Diploma class – Section 1 – Week 3]
Of course the only wine I would nail in identity is Yellow Tail. I actually guessed in my head that it was Yellow Tail, but I was too afraid to answer when our instructor asked the class.
If you spend enough time with wine folks, turning your nose up at Yellow Tail is so reflexive that it's almost an inside joke between us. But Yellow Tail is brilliant. They took a hold of their marketing reigns and went full speed, intending to do exactly what people wanted – an easy-drinking wine for the North American palate, complete with A+ marketing.
As great as it is to scoff at lower quality, all wines fit into some part of the wine world, no matter how difficult in shape that the pegs are to the holes. Yellow Tail is not "bad" wine – it's like saying McDonalds is a good representation of an all-American burger, but it's there for a reason, and the numbers can prove it. I would call myself a bit of a wine nerd, but I'm not going to turn a glass of this down if there's no other wine to drink. I'm not that bad.
Yellow Tail is slowly in decline, but it feels like the dying voice of door-to-door evangelists – yes, I'm absolutely sure I don't want to join you, so go away. Maybe it's time for Yellow Tail to move on. It seems like Apothic Red is taking its place.
Oh right – the wine. I'm a sucker for a white with a thicker body, but the confected and fake oak from the nose along with a flabby structure made me deem it nothing other than acceptable. If anyone like me could pick up the fake oak (by oak chips or powder, I'm guessing), it must be pretty evident, because I suck at picking up oak as it is.
I'm not going to say "don't buy this", but I'm sure as hell going to say that there are more interesting things out there, and you should try them.
Producer: Yellow Tail
Designation: N/A
Region: Australia
Sub-Region: South Eastern
Variety: Chardonnay
ABV: 13%
Vintage: 2012
Tasted: April 24, 2013
Price: $13