2011 Blue Mountain Pinot Gris
Tasting Note:
Eyes: clear, med- lemon, legs
Nose: clean, med- intensity, youthful, butter, vanilla, green apple, pear, citrus, melon
Mouth: dry, med+ acidity, med alcohol, med+ body, med flavour intensity, butter, green apple, med length
All in all: Good quality: noticeable varietal and secondary characteristics are well-supported by balanced acid. However, the alcohol is slightly out of balance, and the wine seems a little simple (although now knowing the price, this is a great QPR.). Drink now: not suitable for ageing.
Identity guess: Mid-priced Chardonnay from Chile; 2 years old.
Is really: Mid-priced Pinot Gris from British Columbia; 2 years old.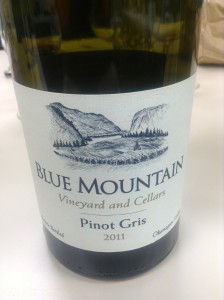 [Tasted during WSET Diploma class – Section 1 – Week 3]
Ah, Blue Mountain. Of course this was chosen for the marketing class, because anyone who regularly drinks BC wines will know Blue Mountain. I was first exposed to Blue Mountain not long after finishing my WSET Intermediate Certification, where producer names were nothing more than blurs in my mind as I focussed on grape varieties and wine-producing countries. I still remember writing down "Blue Mountain" and "Wild Goose" the night I tried wines from those producers for the first time, and now they're almost household names as they're almost mentioned every day by customers at the wine shop.
This is a producer that apparently was quite popular in the past, due to having less BC winery competition and perceived scarcity. I assume that they're still doing well now, but not as good as before.
I often get Chardonnay and Pinot Gris mixed up, but a little oak always screws me up. Out of six wines we tried tonight I guessed that half were from Chile, and clearly I need to stop being so optimistic (or pessimistic for that matter).
The wine itself? The general consensus was that it was underpriced, considering the amount of complexity you get. There was a nice balance of primary and secondary characteristics – mostly green fruit with some citrus and melon showed with elegance, backed up by a mutter of oak, and what I would assume is lees stirring (those "buttery" characteristics either from tasting myself into a corner or just incorrect descriptors). I don't know – I'm too lazy to look for a spec sheet.
Producer: Blue Mountain
Designation: N/A
Region: Canada
Sub-Region: British Columbia
Variety: Pinot Gris
ABV: 13%
Vintage: 2011
Tasted: April 24, 2013
Price: $22