2008 Alpha Estate "Hedgehog Vineyard" Xinomavro
Tasting Note:
Eyes: clear, med- ruby, legs
Nose: clean, med intensity, developing, red fruits, raspberry, cherry, earth, spice
Mouth: dry, med+ acid, med tannin, med- body, med alcohol, med- flavour intensity, med finish, savoury, red fruits, earth
All in all: Good quality: this had a decent amount of complexity, with red fruits balanced with earth and spice characteristics. There was also present structure, with med+ acid and med tannin (which was deceiving because of the light colour – Nebbiolo anyone?). However it lacked in a bit on concentration at the alcohol was slightly out of balanced. Drink now: not suitable for ageing.
Identity guess: Mid-priced Pinot Noir from Chile; 2 years old.
Is really: High-priced Xinomavro from Greece; 5 years old.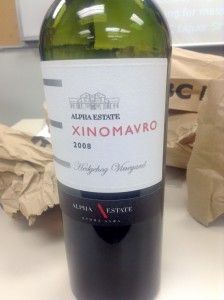 [Tasted during WSET Diploma class – Section 1 – Week 3]
My guesses are really ridiculous, I should really stop with the Chile thing. Blind tasting is really tough – I mean, the light colour but built structure was obviously at least Nebbiolo-like, but every little thing plays into your personal bias: "maybe THIS time it'll be Chile! It has to!" I'm obviously always correct.
Xynomavro is often compared with Nebbiolo – the deceivingly light colour, red fruits, and backbone are all too familiar. The name literally means "acid black", and it's obvious that this wine had time to soften in the bottle, leaving nuances of red fruit balanced by earth and spice. A couple of classmates liked it even so much as to put it in the "very good" ballpark, but I thought it lacked that complexity and balance to bring it up a notch on the quality scale.
In retrospect I should've known that a Chilean Pinot would've been slightly fuller bodied and a little more poopy, also tending towards the fruitier side. The only thing I really got right was the fact that this wine is red. This was hardly even New World in style, I would say.
But, it was my turn to read the tasting notes and apparently mine were nice and succinct; my quality conclusion was pretty much on par with the instructor's except for my medium(-) finish which really should have been medium. At least I'm doing something right!
Who is this wine marketed to? The adventurous. Greek wines from premium producers are relatively new in this market, and are slowly edging their way in. I'm pretty much one of those people that chooses something new on the diner menu at the restaurant, and then ends up sticking to the regular. That's what it is with wine, sometimes. Betting your money on a new grape variety or region takes a bit of courage.
Producer: Alpha Estate
Designation: Hedgehog Vineyard
Region: Greece
Sub-Region: Amyndeon
Variety: Xinomavro
ABV: 13.5%
Vintage: 2008
Tasted: April 24, 2013
Price: $29