2011 Hartenberger Gewurztraminer
Tasting Note:
Eyes: clear, med- lemon
Nose: clean, pronounced intensity, youthful, ginger, ripe apricot, mineral, tropical fruit, lychee, floral, ripe banana
Mouth: dry to off-dry, full-bodied, med acid, high alcohol, med+ length, pronounced intensity, floral, mineral, ripe stone fruit
All in all: Good quality; drink now.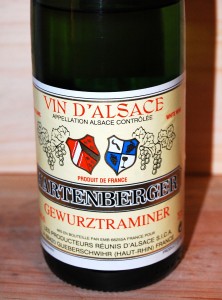 Rarely do I ever try single varietal Gewürztraminers. I'm not sure why. Perhaps it's because they sort of seem just a tad been-there-done-that. With a nose so distinctive and unforgettable despite the region, it almost seems as if you won't get much variation out of them, which is of course, completely untrue. I think I like to explore rather than cover my basics, which probably hurts rather than helps me.
All get drunk in the end, though.
But yes – an interesting and quite aromatic wine, and on the nose it reminds me of the laid-back floral Torrontes. I get a little bit less floral and a bit more over ripe stone fruit. Some lychee as well.
My colleagues loved this wine – and it IS of awesome quality – but I'm almost thinking that Gews might not be my thing. I enjoy the full-bodied oily texture, but on the mid and back-palate, it starts off as a generous overripeness (with floral flavours) that fades into a savoury stony character. It's an interesting two-toned character which is quite interesting, but it's the bursting overripeness on the palate that I personally don't fly with – weird, because a couple of my other colleagues loved this. This wine is a bottle of sass. So much sass.
The sweetness is what we deemed between dry and off-dry. Definitely some residual sugar, but definitely has the acid to prevent cloy. The alcohol is quite warming, and that tropical and lychee fruit is evident on the finish.
I adventurously tried to pair this with some very mild butter chicken but I felt like this wine overpowered it. This Gew definitely needs something as wild and crazy to tame it. It's very get-in-yo'-face.
Long story short, I remember hearing or reading that Hartenberger is really Pfaffenheim if not some super close link between the two.
Producer: Hartenberger
Designation: N/A
Region: France
Sub-Region: Alsace
Variety: Gewurztraminer
ABV: 13.5%
Vintage: 2011
Tasted: April 4, 2013
Price: $25