1991 Chateau Musar Blanc
Tasting Note:
Eyes: clear, med gold
Nose: clean, med+ intensity, developed, honey, beeswax, butterscotch, cabbage, garbage water, wet asphalt, mushroom, citrus
Mouth: dry, med- body, med+ acid, long length, med- alcohol, honey, citrus, savoury, beeswax, nutty, slight salty
All in all: Very good quality; drink now, but can age.
I'm officially the president for the UBC Wine Tasting Club! Hurrah! I wanted to open something nice for my co-workers and I as an excuse. I bounced around between several bottles before settling on this dude. And then I realized how poor I am. Yay!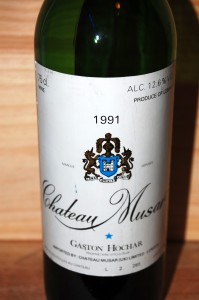 The cork was horrifying. Upon lifting the foil at the top, we discovered that the cork almost had something like a mini-pool of wine at the top and was damp all throughout. With some effort we removed the cork properly without a hitch, and the golden liquid was free for us to taste.
As expected, the nose is interesting and complex. Any fruit exists only as a ghost of citrus dominated by secondary and tertiary characteristics. Honey, wax, and butterscotch are all evident. There are also some weird aromas – weird in the sense that the aromas might be bizarre or even repulsive to the newcomer (like petrol notes in aged Riesling) but interesting to the wine nerd nonetheless. And by that, I mean we smelled cabbage and garbage water, but like, in a good way. There was also a flutter of a wet asphalt minerality – almost like fresh rain on a road. Ironic aromas reminiscent of fresh images, considering the age on this.
Less graceful on the palate – the acidity was impressive, but almost unwoven, as per with the alcohol which seemed to slightly warm the back despite lower alcohol. Definitely powerful, concentrated, and round, with a bright citrus character dominating the palate. Slight sherry-like oxidative quality on the finish. Long length.
What's interesting is that they apparently experimented with this wine by ageing it in French oak for 18 months.
This is definitely a nerd wine – I can see the regular consumer being interested in trying this, but be easily repulsed at the same time. This wine is also quite concentrated and powerful – not for the faint-hearted. If I had this by itself, I'd only be able to have one glass. Perhaps this calls for food, and my colleagues and I agreed that some sort of fatty smoked fish would work.
Could this age? The developed characteristics tell me that even if it could, changes would be minute, and could very well veer into the depths of full oxidation. Though, the acidity and structure is definitely there, and Chateau Musar is known for creating long-lived wines, so it very well might be possible. My experience with Lebanese wines is extremely limited. Well, near non-existent, really.
We're not entirely sure but we're pretty certain that the wine became darker only after a couple hours after opening it.
Producer: Chateau Musar
Designation: N/A
Region: Lebanon
Sub-Region: N/A
Variety: Merwah, Obaideh
ABV: 12.6%
Vintage: 1991
Tasted: March 23, 2013
Price: $64