Fox Run and fun rocks
We went to Fox Run right after Anthony Road, for the WBC15 pre-conference: the sun was sure punishing me for being bald, and slathering scented sunscreen on my head would be a death sentence to the people trying to sniff the shit out of their glasses of Lemberger. At least my head would be shiny enough to be used as a security mirror at a grocery store. Yes? Yes? Halloween costume idea?
A display of the vineyards, winery gadgetry, and discussions with the winemaker were followed by a lunch involving six wines, and then a geological tasting on different vineyards and the subsequent expressions of Riesling. Here, we compared the Hanging Delta vineyard to the Lake Dana vineyard, the former having soils composed of silts and clays with glacial till, and the latter having alternating layers of sand and clay. The difference between the designated "11" and "12" of the two sets of wines refers to winemaking methods: the "11" uses the pied de cuve fermentation, which, if I'm understanding correctly, involves the propagation of natural yeasts on the grapes for even fermentation.
This took place in a cute barn-looking room just a flight of stairs down from the tasting area, with cool metal fixtures, oak barrels, and fairy lights. Sudden urge to ask Carrie Underwood to sing for the first dance at my dream wedding or whatever. Gross.
Anyway, I was feeling a little overwhelmed by stimuli, at the time, like a supercharged Marlborough Sauvignon Blanc, and it was great to settle in at our next hotel before tasting a bunch more New York wines. Oi.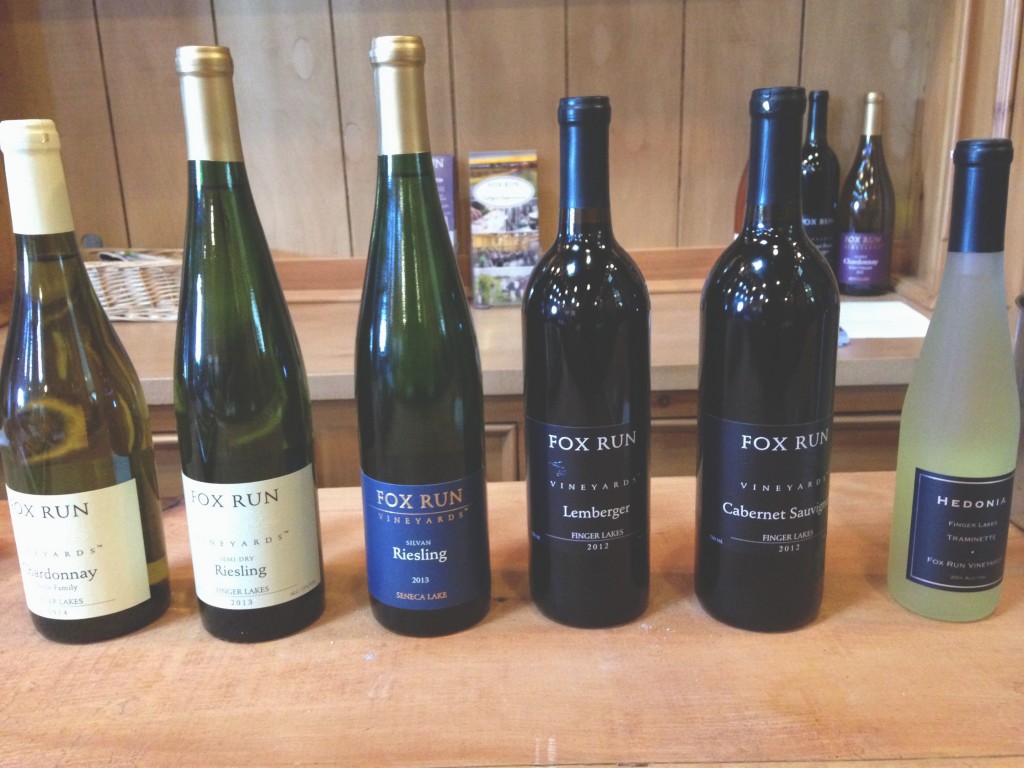 Fox Run 2014 Traminette (Finger Lakes, New York) $15
A crossing of Gewurztraminer and something else with a confusing scientific label, but the progeny certainly takes after Gew. A burst of curvaceousness with white peach, tangerine, and orange blossom. Off-dry and creamy but not oily. Strength is in the upfront surge rather than the finish, which is slightly pale.
Fox Run 2014 Lemberger Barrel Sample (Finger Lakes, New York)
Chunky. Violets and tons of black pepper, blueberries, blackberries, and game. Reductive. On the lighter side for body with piercing acid, lowish chalky tannin.
Fox Run 2014 Chardonnay (Finger Lakes, New York) $12
Steely green apple. Crisp but textured; self-described as a "Chablis-style" Chardonnay. Straightforward with some fruit sweetness. Simple and well-made.
Fox Run 2013 Riesling Semi-Dry (Finger Lakes, New York) $14
Stony and citrus driven with hints of honey and bits of petrol. Bordering over off-dry with cleansing and strong lemony acid.
Fox Run 2013 "Silvan" Riesling (Seneca Lake, Finger Lakes, New York) $25
"Silvan" references to the fact that this was aged in older French oak. Minerally with a hint of dusty smoke; not overtly fruity. Rounder, less intense, and quieter, with more stony bitterness. More textured – almost Grenache Blanc-esque, dare I say – but with more acid and salinity.
Fox Run 2012 Lemberger (Finger Lakes, New York) $21
Much more sculpted, unwound, and much less reductive compared to the barrel sample. Blackberries, blueberries, a bit of oak, and black pepper. Much gentler structure with soft and middling tannins.
Fox Run 2012 Cabernet Sauvignon (Finger Lakes, New York) $25
First New York Cab Sauv?! Gummy cassis and red fruits; any greenness isn't super green, maybe a gentle forest green rather than neon. Surprisingly velvety and mouth-filling on the mid-palate with soft but present tannin. I expected to hate this, to be honest.
Fox Run Hedonia (Finger Lakes, New York) $10 375mL
100% Traminette, but fortified to 21-22% with 96% pure ethanol. Honied, floral, white pepper and devoid of much fruit – mostly a hint of something simultaneously dried and slightly herbaceous, like hay. Medium-sweet on the palate with obvious bits of orange blossom, but slightly imprecise and coarsely cocktail-like.
Fox Run 2012 "11" Riesling – Hanging Delta Vineyard (Finger Lakes, New York) $30
Citrus, mineral, lemon pith, and in the best way possible, wet garbage. Medium-dry, elegant, softly piercing, and glacial.
Fox Run 2012 "11" Riesling – Lake Dana Vineyard (Finger Lakes, New York) $30
Definitely a deeper lemon colour. Opulent canned peaches, with a combination of something pungently herbaceous. Oh my god: I'm sure there's a better term, but in the best way, it smells a little bit like formaldehyde. Similar medium sweetness on the palate with more opulence and honey.
Fox Run 2012 "12" Riesling – Hanging Delta Vineyard (Finger Lakes, New York) $30
Off-dry, mineral-driven, floral, and restrictive, like a floral corset. A hint of something pleasantly green? Peaches, lots of sweet lemon, and a little more flavoured than the "11" of the same vineyard. This is also one of the few wines mentioned in the new edition of Karen Macneil's Wine Bible, where she praises its elegance, delicacy, stone fruit, and strawberry-brushed flavours.
Fox Run 2012 "12" Riesling – Lake Dana Vineyard (Finger Lakes, New York) $30
Still that pungent (and pleasant!) chemical mineral tinge going on. Some honey and toasted bread, even. Slightly drier or more austere on the palate than its "11" twin? Savoury runway on the palate with notable pith.