2004 Pierre Gimonnet Brut Reserve Blanc de Blancs
Tasting Note:
Eyes: clear, med lemon, aggressive froth upon pour, bubbles
Nose: clear, pronounced intensity, yeast, mineral, citrus, butter, bread
Mouth: dry, med to med+ body, med+ acid, med+ to long length, med+ to high intensity, med- alcohol, delicate bubbles
All in all: Very good quality; drink now, but has potential for ageing.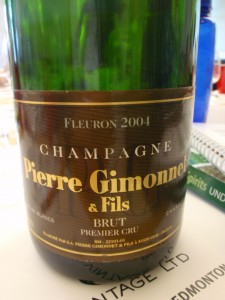 Although blasphemous, I really have to admit: sometimes I'm not the biggest fan of Champagne, and I rejoyced when I found out that I wasn't alone.
For me, it's just the fact that the intrinsic acid of Champagne can often be too zippy for me. Complexities derived from the traditional method of sparkling wine add legitimate and intricate bready, yeasty, and biscuity tones, but the price usually (and personally, most importantly) doesn't justify it for me. Cava is usually the answer to my complaint, with grapes that have naturally lower acidity, can derive some similar autolytic and rubbery notes with production, and I don't have to dab my wallet with paper towels every time it begins to cry.
Speaking of crying, here's a picture of rich kids pouring Champagne all over their gold watches.
WHY?!?!?!?!?! ARE YOU KIDDING ME?! YOUR PARENTS MUST BE SOOO PROUD
Ahem.
I'm usually not a fan of Blanc de Blancs, as Chardonnay can give a lighter-bodied character, as opposed to the heavier Pinot Noir in sparkling wine. That being said, this wine has enough age that it evolved with those autolytic notes, and the acidity has rounded out beautifully while still retaining zip.
I noted that this wine excels in terms of balance. The palate was also quite expressive. #tripleunderlined #awyiss
Producer: Pierre Gimonnet
Designation: Brut Reserve
Region: France
Sub-Region: Champagne
Variety: Chardonnay
ABV: 12%
Vintage: 2004
Tasted: June 11, 2012
Price: $90