2011 Ata Rangi Sauvignon Blanc
Tasting Notes:
Eyes: clear, pale lemon, watery rim
Nose: clean, med+ intensity, youthful, floral, mineral, flutter of citrus, hints of honeyed spice
Mouth: dry, med- bodied, med to med+ acidity, med to med+ alcohol, med- intensity, med+ length
All in all: Good quality; drink now, but I would personally screw around to see what would happen with age.
After I've heard such hype for this wine, I really hate to say that I was underwhelmed by it. After a long dry spell of wine stemming from a promised exam study session complete with delayed gratification, I decided to whip this guy off of my rack because New Zealand Sauvignon Blanc is what you need when you have a white with an intense aroma profile. The nose was subdued at first but became more intense; what confused me was that it didn't become more intense in its stereotypical NZ character. Floral and mineral were what I received off the nose, and any citrus was subdued and vague enough to not be specific. For me, at least.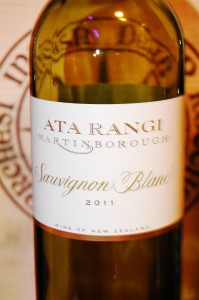 Intriguing, however, were the sauteed onion and honeyed spice notes I got off of a 12-dollar 2007 Chilean Sauv Blanc, except in a lighter secondary style. I don't know what elderflower smells like so perhaps that's what I'm getting. Texture-wise, it's all textbook New World: rounder, slightly fuller body, lower acidity, but a flavour intensity that matched the nose: citrus and boring. I've had cheaper white Bordeaux that's had more New World character than this. I'm usually a fan of atypicality, but this was slightly disappointing.
Further blind tasting with my co-workers a day after confirmed my thoughts. They all thought it was an Old World wine. There was hubbub about chalkiness and even a final guess of Chablis or Chardonnay, followed by a discussion on possible malolactic fermentation. They were super surprised by the reveal, and the ones who've tasted this wine before or the same wine in a different vintage were sure that it tasted different. It was agreed that this had lower acidity than expected (I KNEW IT), which is weird for such a recent vintage. Bottle variation? Weird vintage? Improper storage? Did someone at the winery leave the bottle out in the sun for revenge? Was the bottle lying right next to the hottest part of the airplane? Did a hen think this was an egg? Oh, the stories!
Honestly, it's probably because I've drank this too late in its game.
Producer: Ata Rangi
Designation: N/A
Region: New Zealand
Sub-Region: Martinborough
Variety: Sauvignon Blanc
ABV: 13.5%
Vintage: 2011
Tasted: November – December 2012
Price: $25