2007 Faiveley "Paulée" Bourgogne
Tasting Notes:
Eyes: clear, pale to med- garnet
Nose: clean, med+ intensity, developing, strawberry, spice, spice, savoury
Mouth: dry, light bodied, med+ acidity, low to med- tannin, med alcohol, med- to med length, spice, redcurrant
All in all: Very good quality; drink now.
We compared this basic Bourgogne to a Premier Cru Burgundy that was thirty dollars more. This is great value for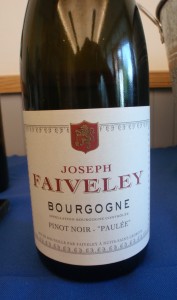 a basic Pinot without breaking the bank. I've heard mixed reviews about this wine in particular, but you really get that true Burgundian character out of this for every single dollar. Sure – it lacks a bit of haunting secondary character you might expect from a red Burgundy, but that's why it's 20 dollars. I'm not entirely sure why, but my table had a hard time determining which of the two wines was which. Shocking, perhaps, but in a way, understandable, because '06 and '07 were both awkward years for red Burgundy. In this case, the proof was in the length. Much shorter length for this guy. I'd recommend this to folks that aren't very familiar with red Burgundy, or really just need a reminder of what it's like on the surface.
Producer: Faiveley
Designation: Paulée
Region: France
Sub-Region: Burgundy
Variety: Pinot Noir
ABV: 12.5%
Vintage: 2007
Tasted: May 27, 2012
Price: $22