2000 Chateau Broustet Barsac Sauternes
Tasting Notes:
Eyes: clear, deep gold
Nose: clean, med intensity, developing, honey, marmalade, vegetal, rubber, pineapple, dried apricot, spice, botrytis
Mouth: sweet, med bodied, med+ acidity, long length, med+ intensity
All in all: Very good quality; Drink now, but has potential for ageing.
Excuse the partially incomplete tasting notes. I feel like I'm noticing a pattern with this particular instructor on the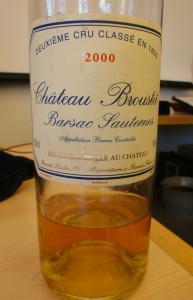 first day of classes – opening with Champagne, and ending with a dessert wine. Perfect.
I find it hard to rate dessert wines. As evolutionary organisms, we are inclined to love sweet things because they contain carbohydrates. Although that last sentence can be easily given a nod, it can just as easily receive a furrowed brow when you try a sweet wine that is cloying, or having no acidity to balance it out, and you have an unclean sweetness not unlike the sensation of drinking maple syrup. This was an example of a wine with that viscosity yet had that nice cleansing acidity. And even though I and my colleagues found it just a tad less concentrated than other examples we've had in the past, we all agreed that this was an absolute steal for $60. A full 750mL bottle of 12 year old Sauternes?! Yes, please. I would easily buy this again.
Producer: Chateau Broustet
Designation: N/A
Region: France
Sub-Region: Barsac, Sauternes
Variety: Sémillon, Sauvignon Blanc
ABV: 14%
Vintage: 2000
Tasted: May 27, 2012
Price: $60