2010 Joseph Drouhin "Laforet" Chardonnay
Tasting Notes:
Eyes: clear, pale lemon
Nose: clean, med+ intensity, youthful, sweet, peaches, tropical fruit
Mouth: dry, med- body, med to med+ acidity, med length
All in all: Good quality; drink now; not intended for ageing.
Tasted against the 2006 Louis Jadot Chardonnay Meursault Genevrières.
Initially the really ripe fruits had me guessing a New World Chardonnay from a hot area (unfortunately I didn't pick up on the acidity), but lo and behold, this was an entry-level Burgundian Chardonnay that borders on that New World ripeness.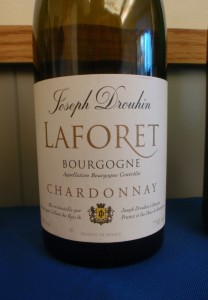 Although this is a good entry-level Chardonnay on the lower end of the mid-price range, I feel like I wouldn't go back to it because there are either wines with a bit more complexity for the same price point or cheaper wines with just-as-ripe fruit.
That being said, it's simple, worth a try, and I can see this being a good-priced crowd-pleaser. For 21 bones, this essentially does what it's supposed to, especially if it's from Burgundy.
EDIT: Retried this in August, and it's surprisingly way different from what I remember. I remember thinking this was so fruity and enough so to think it was from somewhere like Australia, but that could have been attributed to the fact that the comparison to the other wine we tried was vastly different. This time around, I didn't get as much fruit and noticed the buttery Chardonnay-like characteristics – but I guess that's what happens when you know what you're tasting. I'd definitely bump this up to a 3 if not 2.5.
Producer: Joseph Drouhin
Designation: Laforet
Region: France
Sub-Region: Burgundy
Variety: Chardonnay
ABV: 13.0%
Vintage: 2010
Tasted: May 26, 2012
Price: $21 (Liberty), $22 (Firefly)