1999 Lanson Gold Label Champagne
Tasting Notes:
Eyes: clear, med- lemon (to gold), watery rim, bubbles
Nose: clean, med+ intensity, developing to fully developed, sourdough, toasty, biscuity, green fruit, citrus
Mouth: dry, high acidity, med to med+ alcohol, med- body, long length, med+ intensity, delicate bubbles
All in all: Very good quality; drink now, but has potential for ageing.
Compared alongside some NV Henkell Trocken.
Ah, of course – the quintessential Champagne for the beginning of WSET class tasting. Of course, though, I stumble into class just in time for class to begin.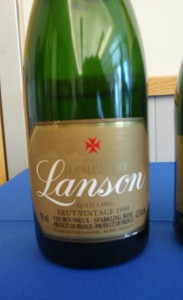 I don't remember why, but in comparison to the previous Champagnes I've had, this one seemed just a touch lacklustre. I felt that, although the overall nose was intense, that the yeasty notes were not as pronounced in comparison to the nose as a whole. I also did read somewhere that 1999 was a less than average year for Champagne (in terms of acidity). I felt this was decent. Creamy citrus, decent nose.
Producer: Lanson
Designation: Gold Label
Region: France
Sub-Region: Champagne
Variety: Chardonnay, Pinot Noir
ABV: 12.5%
Vintage: 1999
Tasted: May 26, 2012
Price: $124