Verdicchi-oh no she betta don't
Two of my goals for this week were to type up the following tasting notes on the Lugana DOC tasting from the 2017 Wine Bloggers Conference and to also prepare for the first portion of the Italian Wine Scholar course next week. It's dawned on me that the first month of 2018 hasn't even ended yet and I've become that cliché of a bright-eyed person entering the New Year, biting off more than he could chew. Bitch, or not: I've got a bottle of wine and an empty Sunday. Let's do this.
I'm still going solidly on my book-reading goals for this year though, and for some reason I decided book #3 was literally going to be a fucking textbook on whisky. Which someone ended up spilling tequila on while at a bar last night, so maybe I should stop bringing textbooks to bars?!
Ongoing goal: drink more weird things. The Lugana DOC, overlapping both Veneto and Lombardy, is made from the Turbiana grape, which is one of those Italian grapes that have confusing synonyms. It's also called Trebbiano di Soave ("Trebbiano" has its own confusing family of names), which is also known as Verdicchio. In "Native Wine Grapes of Italy", Ian d'Agata describes the grape as "arguably Italy's greatest native white variety". It's arguably not that weird of a grape, as per my ongoing goal, but I'm counting it since most Verdicchio I've had are from central Italy in the Marche.
I ought to wax poetic about the grape, but I know I'll have to do that and more for this upcoming course which I'm absolutely telling myself is going to be a good idea. *eye twitch*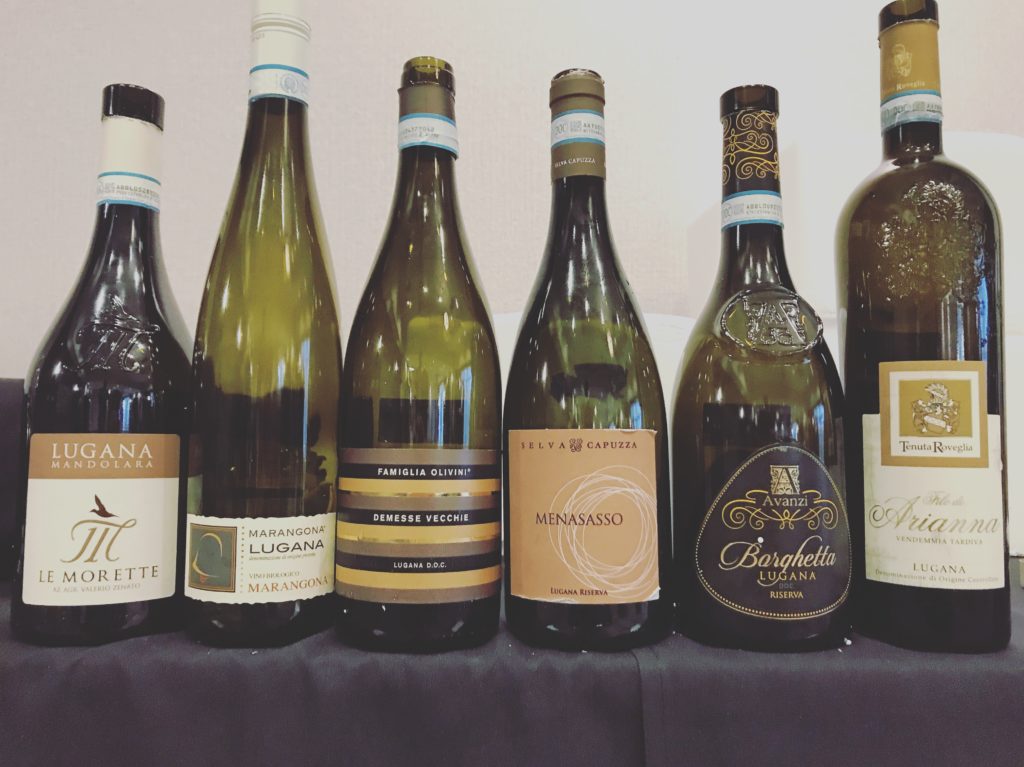 Le Morette 2016 "Mandolara" Lugana (Lugana, Veneto, Italy) Nov 2017. $19 SRP USD.
Solid intro. Amongst the pear, peach kernel, and crushed rocks, there was a consensus that there was an herbal note, and someone defined that as peas. Textured and finessed, with more citrus showing on the palate finishing with a hint of salinity.
Marangona 2016 Lugana (Lugana, Lombardy, Italy) Nov 2017. $16 SRP USD.
There's a waxy minerality, here, or something like an earthy decay – Deborah Parker Wong, who led the seminar, pinpoints this as a hint of petrol. There's also yellow apple and honeysuckle, but the palate vibrates with minerality and lemon seed. Though it's not as intense as the first wine in its flavours, there's a hint of brown spice, which is apparently typical for the grape variety.
Famiglia Olivini 2015 "Demesse Vecchie" Lugana (Lugana, Lombardy, Italy) Nov 2017. $24 SRP USD.
Opens up with starfruit, lemon curd, and golden apple, displaying the fruitiest nose in the lineup so far. Pretty taut, with some of the lees character (12 months) adding some weight.
Avanzi Borgetta 2014 Lugana Riserva (Lugana, Lombardy, Italy) Nov 2017.
A deeper lemon shows more developing aromas here, from 40% being aged in new French (Allier) oak for 10 months: there's persimmon, but also marzipan, vanilla, and dried hay. It's not as impactful on the palate, but there's some baked grapefruit on the end.
Podere Selva Capuzza 2013 "Menasasso" Lugana Riserva (Lugana, Lombardy, Italy) Nov 2017. $27 USD.
So tight. The note of saffron was mentioned, but I've never tasted it before. Small oak barrels helped soften the edges, though, and it finishes with some apple core. Pretty ungiving at this age, but maybe it'll blossom in a few more years.
Tenuta Roveglia 2014 "Filo di Arianna" Lugana Vendemmia Tardiva (Lugana, Lombardy, Italy) Nov 2017.
Late harvest. There's a balance of honey, dried tropical fruit, hazelnuts, and orange. It's full and barely dry, with beautiful acidity cleansing the nutty palate. Aged for 12 to 14 months in 30hL oak barrels.