Bay/Bae Wines for Bay/Bae Moments
This city is doing things to me. I willingly and happily went to a networking event, you guys! I mean, it was themed which made it as enticing as free booze at straight equivalents of such events: it was hosted at Oasis by Out in Tech, a company which focusses on LGBTQ+ folks in the tech world. I've attended the venue before, in the form of drag shows and fuzzy evenings, but upon a night of networking, it got packed real quickly, the drink lines as straight as the room's sexualities.
I'm exclaiming my excitement for a queer tech networking event, yet weeks later I'm stoked about a regular one. 20-year-old me is grimacing at 25-year-old me. Also, you know you've reached peak queer tech when someone's name tag says that they work at "U-bear". Bye, boy.
One of the memorable conversations I had at this event was with someone who was involved in a part of tech unrelated to my field, but we ended up having drinks afterwards at a bar where we could actually breathe, and I realized he and his partner were going to the same drag show that my friends and I were going to later that Saturday. My brand: going to a queer networking event to talk about my company and instead finding friends to go to drag shows and Castro bars with.
Perhaps the most appropriate part of this whole situation was that the drag show was a Peaches Christ production: a drag parody on Romy and Michele's High School Reunion starring Trixie Mattel and Katya. Inventing Post-its? I should have gone around the room during that networking event claiming to have done that, counting how many people would have gotten the reference. Maybe that's peak queer tech.
I'm falling behind on these posts (what else is new?), but there was a focus on Santa Cruz, Livermore, and Lodi for this week's California Wine Appellation Specialist class. #WBC16 flashbacks 🙌🏽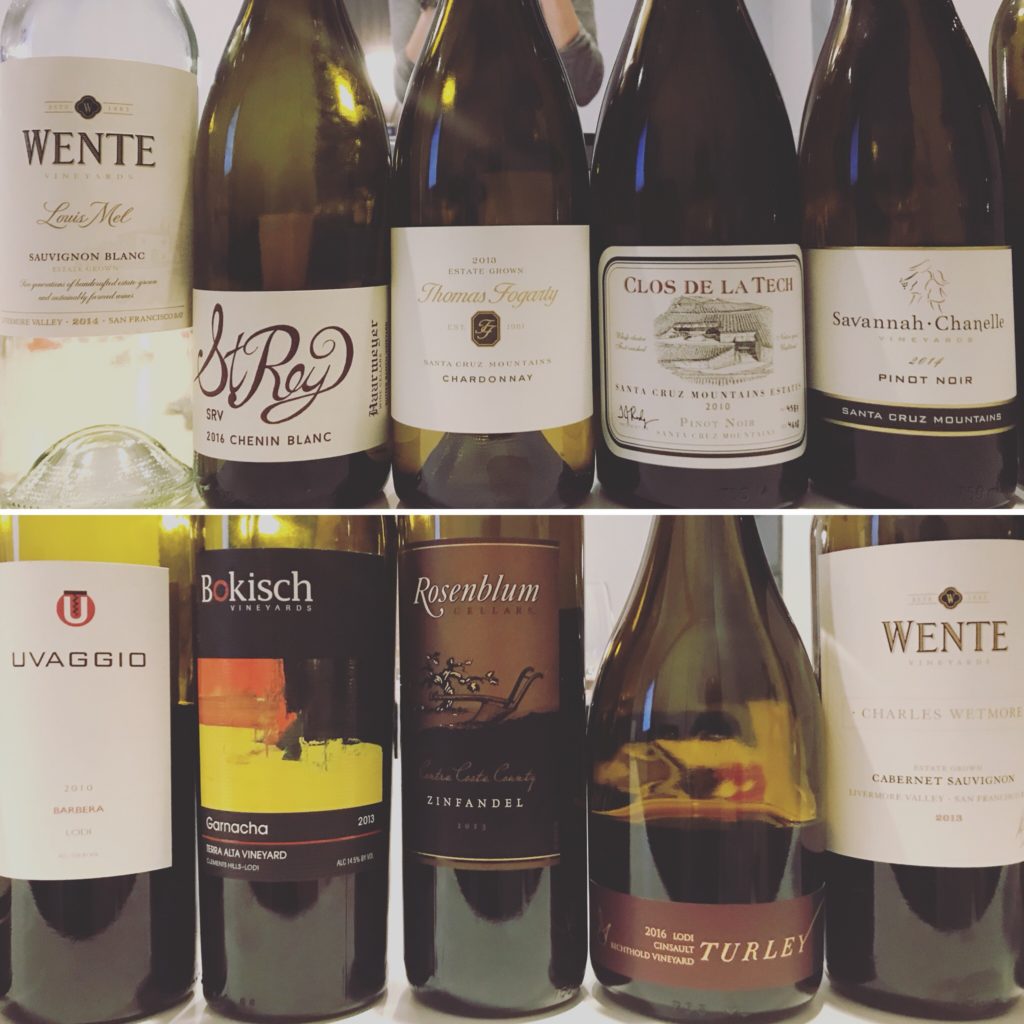 Wente 2014 "Louis Mel" Sauvignon Blanc (Livermore Valley, Alameda County, Central Coast, California) Nov 2017. $15 USD.
Pale lemon with a hint of green. Youthful with its direct aromas of grapefruit, white flowers, and lemon rind, though it's not super loud. Dry with slight heft, body, and warmth. There's a little more ripe fruit and guava on the palate. Gently awkward.
Haarmeyer Wine Cellars 2015 "St. Rey" Chenin Blanc (Clarksburg, California) Nov 2017. $17 USD.
Slightly deeper in colour than the first. It's hard to discern what the aromas are behind the slight burnt match quality, but it opens up with super subtle chalk, wool, and mushroom. Then there's a dance on the palate: a dance of textured creaminess that's countered by a twinkling salinity, and a hint of bitterness balancing a sweet butteriness on the finish. Super intriguing and layered. Spontaneous fermentation and partial malolactic fermentation.
Thomas Fogarty 2013 Chardonnay (Santa Cruz Mountains, California) Nov 2017. $35 USD.
It's hard to tell what's dominant in this mix of yellow plum, oak, butter, and yellow apple. At first, the ripe, full, chewy and voluptuous palate was almost overwhelming and off-putting, but after a few sips it just became super compelling and swallow-worthy. Beautiful acidity and savouriness balance out the ripe intensity. Aged 12 months in French oak, with 7 months in stainless steel.
Turley 2016 Cinsault, Bechtoldt Vineyard (Lodi, California) Nov 2017. $27 USD.
A pale ruby colour with hints of purple. Certainly youthful with brambly aromas that easily escape the glass, then there's bubble gum, blueberry pie, and rhubarb. Pretty light-bodied and brisk with a mere scratch of tannin and slightly unripe fruit. I remember that many people showed a healthy amount of intrigue for this during 2016's Wine Bloggers Conference in Lodi, but for me it's naked and missing a bit of stuffing, also reminding me of the partially carbonic macerated fruit of Beaujolais. Tasty enough!
Clos de la Tech 2010 Estates Pinot Noir (Santa Cruz Mountains, California) Nov 2017. $42 USD.
There's red fruit, charred plum, dried black fruit, cola, and a distinct kick of something mineral-like. Hard to tell what sticks out. I was slightly shocked to find out it was Pinot only because of the combination of the root-like stemminess and the slightly chalky tannins that were distinctly different from the following Pinot hailing from the same AVA.
Savannah-Chanelle 2014 Pinot Noir (Santa Cruz Mountains, California) Nov 2017.
There's such an innocence to this. Pure and pronounced aromas of raspberry jam, charred red fruit, strawberry, and a hint of cola almost make you want to cradle the wine and shield it from any oak. Really giving without spilling too much on the tongue. Really intense, balanced, and charming: probably my favourite of the night. Randomly enough, I get a hint of popcorn somewhere in there.
Uvaggio 2010 Barbera (Lodi, California) Nov 2017. $20 USD.
Raspberry, bramble, jam, strawberries, and spice are on a bed of decaying autumn leaves. A hint of leathery development balances the ripe fruit on the palate, and the wine shows Barbera's slightly supercharged side of the spectrum. There's a distinct laundry-like floral tone on the palate. High acid and softly chunky tannin scream Barbera, and there's enough weight to carry the flavours.
Bokisch 2013 Garnacha, Terra Alta Vineyard (Clements Hills, Lodi, San Joaquin County, California) Nov 2017. $20 USD.
Don't be fooled by the pale ruby: this wine is like when you're visiting from out of town, attend a family get-together, and everyone in the room is trying to catch up with you while your parents are trying to please you with platefuls of food. Tons of ripe red fruit, apple blossom, and strawberries. It's so mouthwatering that it's almost difficult to taste the vibrant flavours, but I get an echo of red fruit along with some floral notes and chalky tannins in the mouth.
Rosenblum 2013 Zinfandel, Old Vine (Contra Costa County, California) Nov 2017. $26 USD.
Dark chocolate, wood, and slightly dried black fruit, in the realm of blackberry liqueur. Full, intense, structured, and comforting. A little more fig and dried fruit on the palate. Very complete. Thick and rich, like how I like most of my men? ✨
Wente 2013 "Charles Wetmore" Cabernet Sauvignon (San Francisco Bay, Central Coast, California) Nov 2017. $25 USD.
Pretty intense aromas of dried black fruit, smoke, oak, and candied bacon. Pretty hefty and aggressive without much of the herbal character that the grape can often exude. Lots of structure. Slightly brash, but great value.
Uvaggio Vermentino Passito (Lodi, California) 500mL. Nov 2017. $20 USD.
Golden hue. This smells like that satsuma body butter from the Body Shop that y'all slathered on your hands during high school. Candied lemon peel adds a gently bitter riposte to the ripe citrus and honeyed sultana raisin. Chewy, but not super saccharine or cloying. A little short, but there's tons of pleasure in its burst.