"Backroads of California"
I can't believe I even made it to this masterclass, because tickets to these GuildSomm events usually sell out quicker than it takes today's somm to name their favourite natural wine producer. Then again, I guess it's a California-themed one held in, well, California, so perhaps everyone else in this city is just more familiar with these tipples. I've lived here for around a year, so a masterclass titled "Backroads of California" implies that the theme is the vinous road less travelled – but considering this state was a quasi-neglected region during my WSET diploma studies, you could imagine how badly this information stuck.
That being said, our presenter, Kelli White – author of Napa Valley Then & Now – was a fantastic guide who eventually tipped the scale in my mind in favour of taking the California Wine Appellation Specialist course. California's diverse range of wines didn't seem to make their way to my wine studies back in Canada, so this felt right. As for the masterclass, we virtually travelled to Santa Barbara, San Luis Obispo, Paso Robles, Monterey, Santa Cruz, Contra Costa, Lodi, Chiles Valley, Rockpile, Sierra Foothills, and Lake County. Everything but California's mainstream.
10-year-old Californian Nebbiolo and white chocolate-scented Grenache Blanc, tho.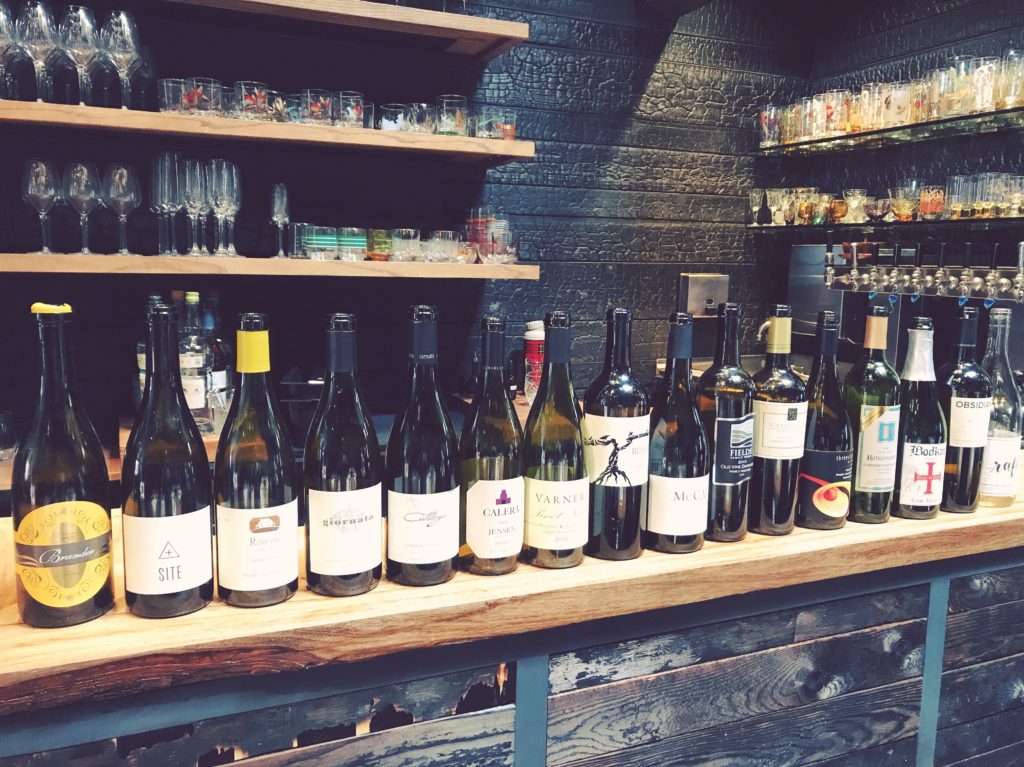 Brander 2016 "Au Naturel" Sauvignon Blanc, Los Olivos Vineyard (Los Olivos District, Santa Ynez Valley, Santa Barbara, Central Coast, California) Sep 2017. $32 USD.
Ripe grapefruit, passionfruit, and citrus. Relatively light with a savoury and structured mineral middle and a distinct bolt of grapefruit zest and orange in the centre. Not necessarily veering into herbaceous territory like other New World versions of the grape. 24 hours skin contact adds some texture.
Site Wine Co. 2014 Syrah, Bien Nacido Vineyard (Santa Maria Valley, Santa Barbara, Central Coast, California) Sep 2017. $50 USD.
Deep ruby. Exuberantly supercharged black fruit dusted with black pepper and a clarity of flavours that don't beat around the bush. Clear and energetic on the palate with sandy texture and a layer of something floral. Fresh but not bracing. Hints of a sweet bitterness on the palate, like black liquorice. So much purity!
Talley Vineyards 2015 Chardonnay, Rincon Vineyard (Arroyo Grande Valley, San Luis Obispo, Central Coast, California) Sep 2017. $44 USD.
Pale lemon with hints of green – perhaps a slight haze. Lightly buttered red apples. Genuinely charming. The twinkling acidity on the tongue contrasts and melds well with the slightly buttery and oaky flavours, almost giving an impression of salted popcorn, but then the palate has very well-integrated vanilla, giving an impression of salted vanilla ice cream. Brilliant. I want to swallow this, tbh. This has risen to the ranks of one of my favourite Californian Chardonnays. 20% new French oak and full malolactic fermentation.
Giornata 2007 Nebbiolo, Luna Matta Vineyard (Paso Robles, San Luis Obispo, Central Coast, California) Sep 2017. $45 USD.
Pale garnet with lots of chunks, tbh. Not super aromatic, actually: mostly dried cherries and a hint of wet soil, along with a ghost of something cola-like. Much more lively on the palate with savoury flavours and hints of root beer that join the dried red fruit. Very structured and fresh. The exuberance slowly gets closed off by the tannin, but cranberry fruit and dried roses still show through on the finish. Very cool stuff.
Cattleya 2014 Syrah, Soberanes Vineyard (Santa Lucia Highlands, Monterey, Central Coast, California) Sep 2017. $70 USD.
Clearly less clarity and finesse on the nose than the other Syrah: this deep purple shows more chocolate and chewy broadness rather than piercing clarity. It smells chewy, and you assume it's going to be such – like when you get a whiff of someone's cologne and you kind of assume what kind of person they are depending on the note. Dry, ripe, and intense sweet blackberry fruit is surrounded by a decent amount of sand-like tannin, along with a nice counterbalance from freshness on the palate. 63% new French oak.
Calera 2009 Pinot Noir, Jensen Vineyard (Mt. Harlan, San Benito, Central Coast, California) Sep 2017. $75 USD.
A pale ruby bordering on garnet. Nose is a bit blank to me – it's not fruit forward, and instead it's more like decaying autumn leaves, spice, oak, and cooked cranberry. I find that the palate has much more character, with layers of an elusive mushroom character and elegant oxidation. Gentle tannin. I hate to admit it but this IS well-balanced at 14.6% ABV.
Varner 2013 Pinot Noir, Spring Ridge Vineyard; Upper Picnic Block (Santa Cruz Mountains, California) Sep 2017. $48 USD.
Pale ruby. Something gently charred on the nose behind the strawberry fruits. It's oddly appealing. Ripe and dry with a fair amount of body. Refreshing, moreish, charming, and savoury. One year in 25% new French oak.
Bedrock 2016 "Heritage" Red Wine, Evangelho Vineyard (Contra Costa County, Central Coast, California) Sep 2017. $36 USD.
Roughly 60% Zinfandel and 35% Mataro, with the rest filled out by Carignan, Alicante Bouchet, and Palomino. Rather lighter-footed than I expected, considering the mix, though the tannins are quite fine and vibrant, providing just enough structure to the spicy grapiness, dried fruit, and herbs.
McCay Cellars 2013 Grenache, Abba Vineyard (Lodi, Central Valley, California) Sep 2017. $35 USD.
Pale ruby, but bursting with crushed ripe raspberry. The flavours are so vivid that you'd swear your hands were covered in fresh raspberries. Supremely exuberant on the palate – is this raspberry lambic? Wowza. Quite possibly one of the best new world Grenaches I've ever had (sorry, d'Arenberg!). So incredibly finessed, round, well-balanced, and structured.
Fields 2013 "Old Vine" Zinfandel, Family Vineyard (Lodi, Central Valley, California) Sep 2017. $28 USD.
Sometimes you get a wine with a distinctly odd yet pleasurable flavour – and beyond the red and black fruits, here, there's a dried seaweed thing on the nose and so much more on the palate. Along with the burst of fruit, it makes this oddly enticing and interesting.
Volker Eisele 2010 Cabernet Sauvignon (Chiles Valley District, Napa Valley, North Coast, California) Sep 2017. $50 USD.
Deep ruby with a hint of a haze? Strong footing of cassis and a dark, shadowy hint of greenness. Dry and full with a hint more glimmer of ripe fruit on the palate. The chalky tannin isn't aggressive, and the oak isn't gaudy. Distinctly meaty, savoury, and leathery on the palate. Showing great development, and drinking really currently. 84% Cabernet Sauvignon and 16% Merlot; aged 24 months in 50% new French oak.
Three Clicks 2016 Grenache Blanc, Branham Vineyard (Rockpile, Sonoma, North Coast, California) Sep 2017. $30 USD.
Definitely the strangest thing in this lineup, even over the aged Californian Nebbiolo: who'd have thought? Also, what the actual fuck? White chocolate? Wax? Lemons. Herbs. Green plums. Dry with the grape's typical roundness on the palate. Both intriguing and one of the day's favourites. Aged on the lees for 4 months.
Renaissance 1995 "Premier Cuvée" Cabernet Sauvignon (Sierra Foothills, Central Valley, California) Sep 2017. $70 USD.
A hint of haze shows through the medium garnet. Pleasurable but not the most graceful aging, in my opinion, with cashews, dried plum, tomato, a hint of cola, and cigar box. Savoury but finessed, along with some chalky tannin still kicking around, and a bit short. Biodynamic and small yields; 76% Cab and 24% Merlot. Neutral oak for 26 months.
Bodkin "Cuvée Argincourt" Blanc de Sauvignon Blanc (Lake County, North Coast, California) Sep 2017. $23 USD.
I don't remember the last time I've had a sparkling Sauvignon Blanc. Was it one from New Zealand? Anyways, picture those cookies with some kind of lemon jelly in the centre – the Peek Freans kind. Bits of nectarine and starfruit also show on the nose, while grapefruit reveals itself on the palate past the slightly aggressive mousse. Juicy. 11g/L dosage.
Obsidian Ridge 2014 Cabernet Sauvignon, Obsidian Ridge Vineyard (Lake County, North Coast, California) Sep 2017. $50 USD.
Not your frat brother's Cab. A note on the nose is both annoying and intriguing: something a bit goaty or waxy. There's lots of intense and direct blackberry fruit to balance out that earth, though, along with a balancing bitter edge and fine tannin structure which makes up for the hint of stickiness. Aged for 21 months in 50% new Hungarian barrels.
Raft 2016 "Une Fleur Pour Ma Mère" Rosé of Grenache, Trails End Vineyard (Potter Valley, Mendocino, Mendocino County, North Coast, California) Sep 2017. $23 USD.
Very pale. A hint of red fruit but it's quite mineral-driven with distinct wafts of a sweet herbaceousness, like black tea. Refreshing and structured.