God damn it, Riesling.
If Tyra banks were a Riesling (spoiler alert: she probably is, but like a Californian one or something), she – and I, for that matter – would be yelling at wine consumers à la Top Model cycle 4's Tiffany. Alas. We coerced the masses to join the Church of Riesling and tried to convince the world that it was everyone's undiscovered main bae: I did my best to promote the versatile berry, including the times I poured the gamut down the throats of university students during multiple hilarious post-secondary stints, or the time I shared some with a friend out of a thermos in the library while studying mathematical proofs. I've often dubbed Riesling a Millennial gateway grape (I'm talking about you, Sean) since it's famed for occasionally having a sweeter personality, but maybe I should stop this persuasion before Riesling becomes the next to blame for our spending habits after avocados and rompers.
Wine Folly and Wine Searcher have called it: apparently it's not going to happen, and Riesling will remain that wise person in all its sacred and neglected prestige sitting cross-legged at the top of an isolated mountain, only to grow a beard that perpetually smells of petrol, don jewel-encrusted robes shaped like orchard fruits, and then be visited by bewildered adventurers who ask advice on complicated food-and-wine pairings that will get them and everyone laid. Bitch, Riesling was there all along. You didn't listen, and now you're drinking a natural Macabeo aged in coconuts, or something.
Here are fourteen Rieslings: the first three were tasted recently in San Francisco at a GuildSomm masterclass on Austria; the latter were tasted at a German wine event a year prior in Vancouver, Canada, with Romana Echensperger, a Master of Wine from Germany.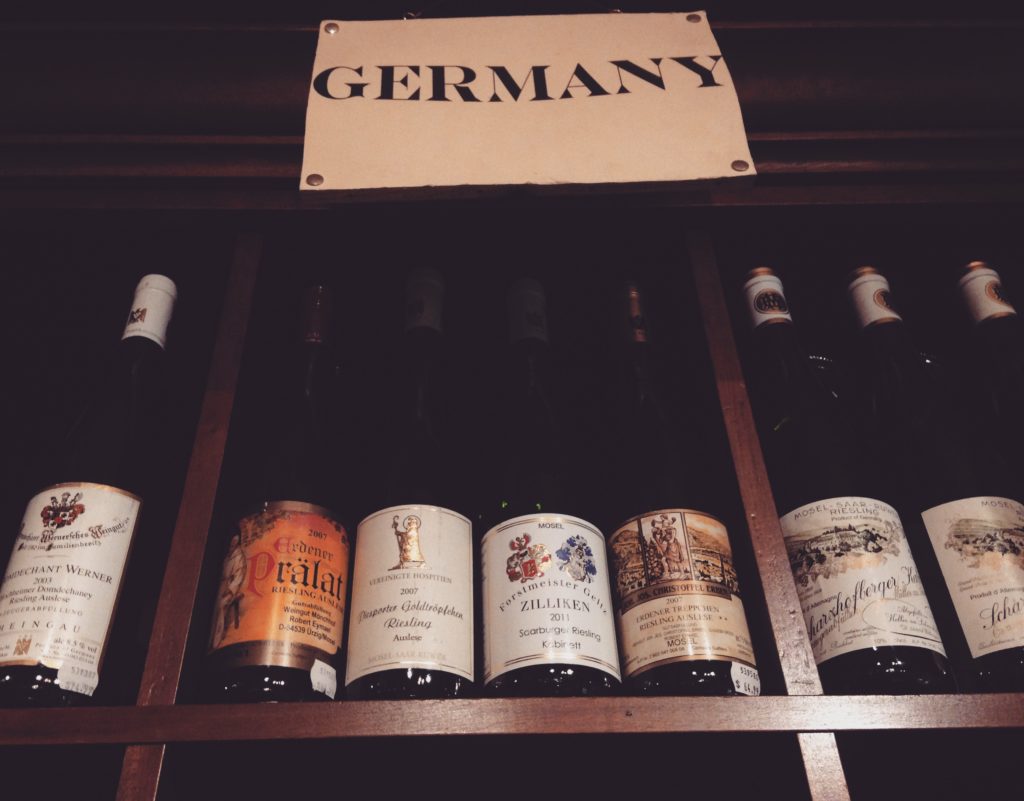 Proidl 2012 "Reserve" Riesling, Ried Ehrenfels (Kremstal DAC, Niederösterreich, Austria) Mar 2017. SRP $45 USD.
There's an interesting dance of aromas, here: an unequivocal Riesling combination of petrol, white flowers, and citrus, but there's an undertone of meatiness, an aroma that distinctly reminds me of a soy sauce and garlic-based marinade my dad used to make for pork skewers. It's analogous to a meaty and mayo-like character I sometimes get in Cava – except it's unquestionably enjoyable here. This weird non-fruit character successfully plays with the fruit on the palate, and the juicy acid adds a component to this flavour braid of ripe, meaty, and tart. Delicious.
Rudi Pichler 2015 "Smaragd" Riesling, Ried Achleiten (Wachau, Niederösterreich, Austria) Mar 2017. $102 USD.
Some tropical fruit and green tea on the nose, along with stone fruit and honey. Definitely dry but with a ripe and sweet impression along with lots of this interesting and almost vaguely exotic spice on the finish. Playful collaboration of tart, ripe, and spicy.
Hirtzberger 2013 "Smaragd" Riesling, Ried Hochraine (Wachau, Niederösterreich, Austria) Mar 2017. SRP $70 USD.
Mainly honey, ginger, apricot, and lemon curd. Dry, full, steely, and bright – yet dense and warming. Holy shit. An outstanding combination of density and freshness.
Dr. Loosen NV Sparkling Riesling (Mosel, Germany) Apr 2016. $18.50 CAD.
A touch of sweetness and a bubbly attack, and then a mineral ending. Light notes of nectarine and white peach, and a small layer of crystallized fruit. Short but fun and unserious.
Reichsrat Von Buhl 2013 "Armand" Riesling (Pfalz, Germany) Apr 2016. $32 CAD.
Not shy, this one. There's a hint of petrol underneath lots of lime, ripe pomaceous fruit, and a tropical bend of passionfruit and mango. The fruits are ripe and it's a little more than off-dry, but everything's bright and well-balanced.
Weingut Rudolf Muller 2014 "Bunny" Riesling (Mosel, Germany) Apr 2016. $18.50 CAD.
Timid scents of green fruit and apple blossom. Off-dry and cheery though a bit vapid and short, like a song-of-the-summer-one-hint-wonder. Well-balanced, at least.
Weingut Von Winning 2014 Paradiesgarten Riesling Trocken (Pfalz, Germany) Apr 2016. $23 CAD.
Also a bit timid, but according to some others in the group this might be a bit reductive. On the nose it's mostly white flowers and a hint of a kernel character, opening up with white peach; on the palate there's a hint of a spritz and citrus pith that finishes with a pleasant floral bitterness. Very pretty, but also direct, bracing, and precise.
Forstmeister Geltz-Zilliken 2011 Saarburger Riesling Kabinett (Mosel, Germany) Apr 2016. $39 CAD.
More closer to the textbook, here, when I think of Mosel Riesling: lots of moderately-intense lime, petrol, minerality, and flowers. Simultaneously light-footed yet dense in flavour, the brightness balancing well with the sweetness, leading to a sweet-and-sour blend of green apples and lime.
Weingut Max Ferd. Richter 2013 Wehlener Sonnenuhr Riesling Spätlese (Mosel, Germany) Apr 2016. $52 CAD.
Nectarine, peach, some honey, a distinct hint of smoky minerality, and maybe even just a smidgen of botrytis? In the mouth there are sweet and creamy baked apples, while the acid gently cuts through the honey. Not as lasting as I'd like, but I guess we can't all win.
Weingut Tesch 2012 Lohrer Berg Riesling (Nahe, Germany) Apr 2016. $43 CAD.
We're cutting back to a much drier and steelier style. Lots of intense lime on the nose, along with minerals and a hint of herbs. Definitely dry and bracingly refreshing but with a bare hint of a smile. An ethereal cousin to the Rieslings of Clare and Eden Valley.
Weingut Dönnhoff 2014 Weissburgunder Trocken (Nahe, Germany) Apr 2016. $53 CAD.
Beautiful. Like some Alsatian Pinot Gris, this evokes images of sunshine and clouds; a stony combination of nectarine and white peach that isn't too blinding. It's dry and creamy with a hint of a perky spritz, and then white peach pith that ends in savoury bitterness. Fantastic tautness and concentration.
Weingut Bassermann-Jordan 2012 Forster Jesuitengarten Riesling Grosses Gewächs (Pfalz, Germany) Apr 2016. $85 CAD.
Holy shit this is pretty AF. Pronounced layers of flowers, peach jelly, orange, lemon curd, apricot, and mangoes, all with a drizzle of molten steel. Dry and stony – but fantastically ripe – but ends really steely. All of powerful, creamy, lush, bright, and elegant. Brilliant!
Domdechant Werner'sches Weingut 2007 Riesling Auslese (Rheingau, Germany) Apr 2016. $70 CAD.
Beautiful golden hue. Honied peach nectar, botrytis, pineapple, and sultana raisin. It's creamy and sweet in the mouth with cutting acidity mostly on the mid-palate: impressive that I can call this refreshing. Concentrated and weighty.
Vereinigte Hospitien 2007 Riesling Auslese (Mosel, Germany) Apr 2016. $60.50 CAD.
Compared to the Domdechant Werner, this is much more closed on the nose. Perhaps a dumb phase? The bit of flavours are expressed as citrus skin, lime, a bit of grapefruit and a light drizzle of honey. It's sweeter yet more authoritative than the Domdechant Werner, and also much less sticky, and much more citrus-driven. Hope to see this one develop.