Zweigelts and Blau-jobs
TFW you're at work on a Saturday evening and continue with some extra writing because you're motivated during stupid hours of the night, only to be invited out to an event starting at 2:30AM on the night we jump forward for the wretched anti-event of Daylight Saving Time. The next day brought about a cornucopia of beers, jello shots, wine, wine, hot tubs, wine, vodka, and musical numbers. My level of verve is that of a flowery warm-climate Viognier lazily draped on a tongue-shaped couch, unlike Austria's zesty Zwiegelt and Blaufränkisch, both who have demanding spirits that seem like they're trying to convince you to like them. C'mon, energy!
I haven't had much Zweigelt, Austria's most widely planted grape and lovechild of Blaufränkisch and Saint Laurent – the only ones that come to mind are Canada's attempts. Styles of the wine vary as much as my willingness to get up in the morning, but apparently its average expression is one that is much like northwest Italy's Barbera, with energetic acidity, relatively restrained tannin, and spicy red fruit. And, like Barbera, fuller, age-worthy, and oaked styles can be found when yields are controlled.
The thicker-skinned and sunshine slut Blaufränkisch ripens around three weeks later than Zweigelt. Most memories of the grape remind me of 2015's exploration of the Finger Lakes wine scene (and there it's mostly called "Lemberger"), where themes of dark fruits often accompanied a profusion of spice and game notes with firm structure – the Austrian ones I tried here seemed to fit the theme but with a little more stuffing and frame. Master Sommelier Matt Stamp draws a French analogue and calls Blaufränkisch "furry Pinot Noir", in a sense that the Blau might match the Pinot in its flavour profile but with a furrier-feeling body. I don't completely believe the connection. I'm also not a Master Sommelier, but hey: if there's an analogy that lets me call Pinot Noir a twink and Blaufrankisch an otter, then I'm on board.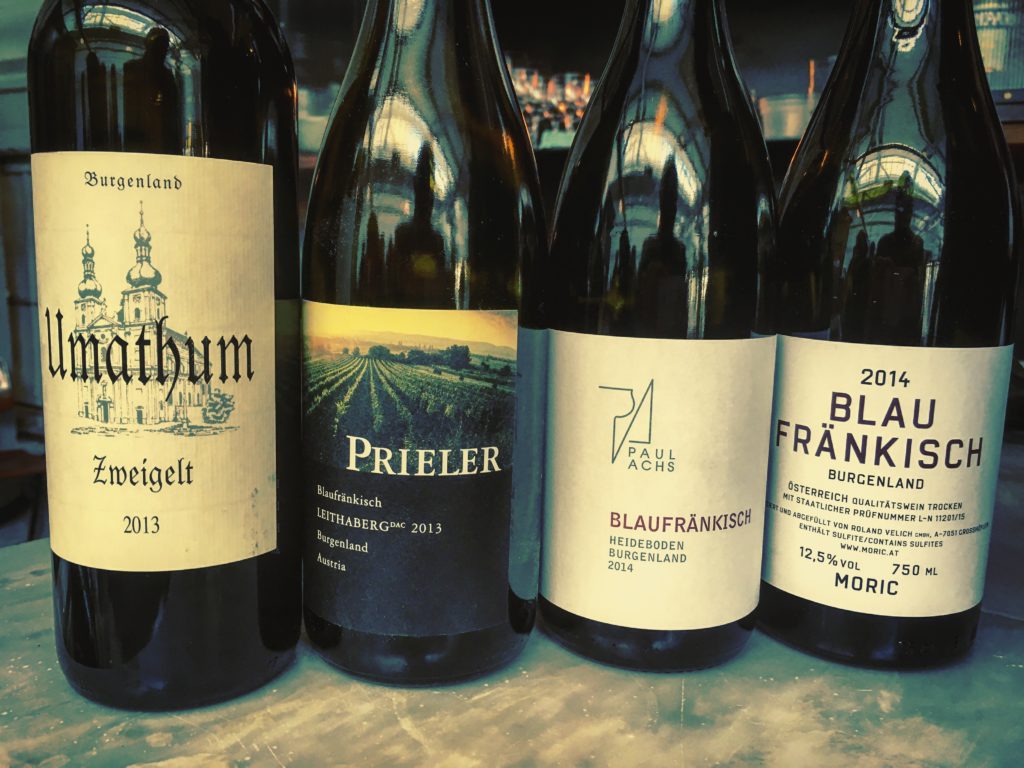 Umathum 2013 Zweigelt (Burgenland, Austria) Mar 2017. SRP $21 USD.
Pale ruby. Black pepper, a hint of overripe raspberry, black fruit, a hint of smoke, and the faintest bit of body odour. Something like ketchup, maybe? A bit dull and bitter with not much to show beyond that, but at least it's pleasurably crushable. I'm not not a fan, but the room seemed to generally dislike this. I'm reading only now that Jancis Robinson recommends this producer as one of the best for the grape in the Wine Grapes tome, so perhaps a revisit is in order.
Prieler 2013 Blaufränkisch (Leithaberg DAC, Burgenland, Austria) Mar 2017. $54 USD.
Mostly slightly charred plums and violets on the nose, and almost like an unintentional riposte to Cabernet Sauvignon with a backbone of powerful dark fruit and something reminiscent of green pepper. Jenna Lavita of New York's Ventosa: is that you? A fair bit of gripping tannin and mouthwatering acid, balanced with an ashy end. Seems powerful but closed: intriguing to see with age? Mentioned in Wine Grapes by Jancis Robinson as a great example of the grape.
Paul Achs 2014 Bläufrankisch, Ried Heideboden (Neusiedlersee DAC, Burgenland, Austria) Mar 2017. SRP $20 USD.
Much more playful compared to Pieler's stoic strength: there's more red fruit, white pepper, and meat on this one, with a pleasant sourness on the nose reminding me of an austere lambic beer elevated with some kind of red fruit. Much more delicate than Prieler, too, with less of a muscly grip and more of a searing acidic edge. Good stuff, but I'm convinced that this needs food.
Moric 2014 Bläufrankisch (Burgenland, Austria) Mar 2017. SRP $30 USD.
The flavours on the nose that are expected, which mainly consist of black fruit and white pepper, are intriguingly sprinkled with something odd, like an intersection between brine, cleaning product, and a swimming pool. Black pepper pokes its way through the gripping meshwork of tannin and acid. Leaves my mouth uneven, in a sense that the wine brims with unexpected distinctiveness.