Is it too late now to say Syrah-ry?
I have a substantial place in my heart for New World Syrah. Though my favourite is probably British Columbia's Nichol, My first (legal) bottle was the 2007 vintage of BC's Burrowing Owl – a 19th birthday gift from my best friend, and a winery from BC whose wines have the tendency to puff their chests across grape varieties. Like, yeah, we get it – your Pinot is weirdly thick and you have Freudian tannins.
Anyways: a American Syrah seminar at a Rhone Rangers tasting in Presidio, San Francisco (feat. Arizona!). I remember zoning out for a split second only to come back to my senses when a winemaker made a joke about pH levels and the entire room burst out in laughter. Is this heaven or hell?
The seminar was moderated by Sara Schneider (Syrah Schneider? haha bye), wine editor of Sunset magazine.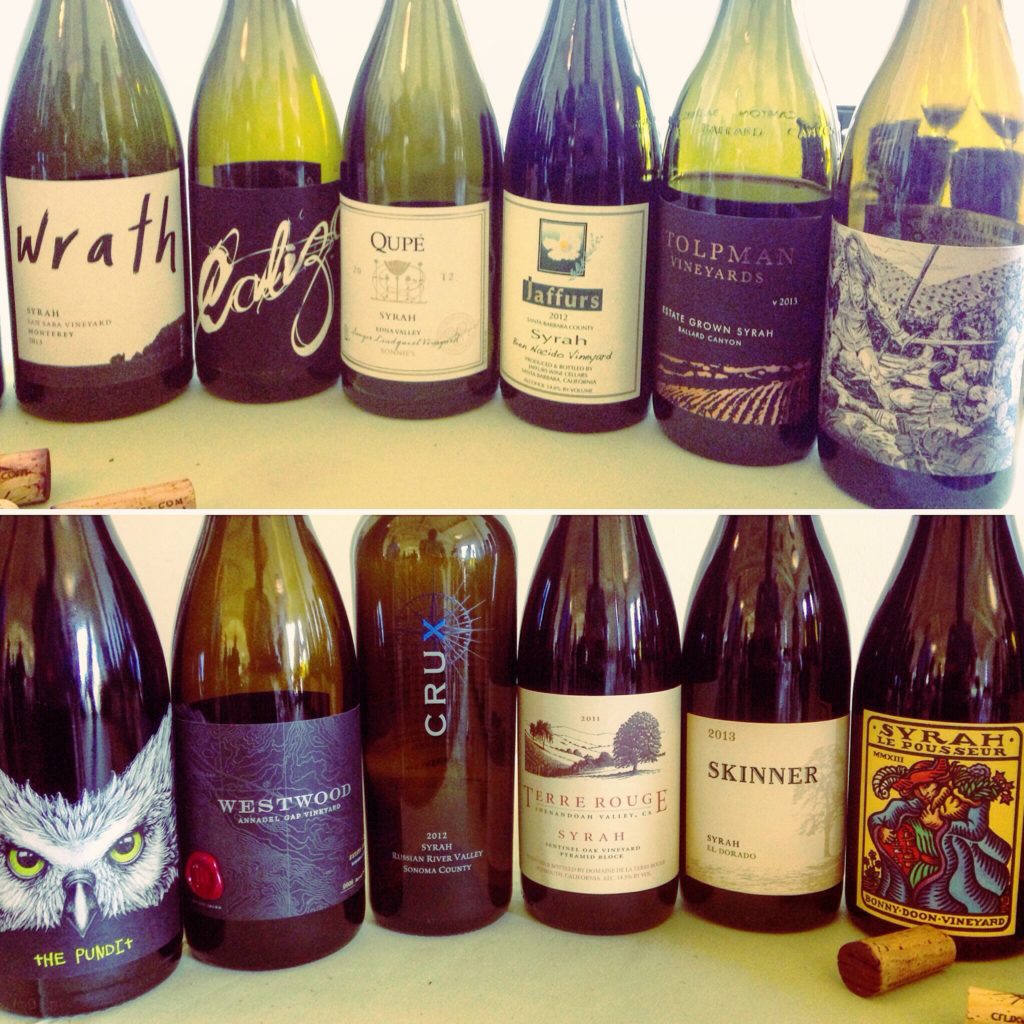 Tenet 2014 "The Pundit" Syrah (Columbia Valley, Washington) $25.
88% Syrah, 6% Grenache, 4% Mourvèdre, and 2% Viognier. Lots of austere black fruit on the nose, and then something a hint gamy or reductive: serving me a bit of a New York Lemberger throwback. A bit teasing with the combination of ripeness and restraint: I'm almost tempted to say this has cooler climate flavours with warmer climate structure. Chalky and warming, but balanced at 14.5% ABV.
Westwood 2014 Annadel Gap Vineyard Syrah (Sonoma County, California) $40.
A bit more exuberant, here, with dried black cherry, spice, molten dark chocolate, and cocoa. Really intense acid, and an undertone of something playful and fresh on the palate, like cranberries, flowers, and the tiniest slice of bubblegum. The tiniest.
Crux 2012 Syrah (Russian River Valley, Northern Sonoma, Sonoma, California) $36.
84% Syrah, 11% Petite Sirah, and 5% Mourvèdre; unfiltered and fermented with wild yeast. Quite an obvious burst of brettanomyces at the beginning which later reveals black fruit, mineral, and exotic spice. On the fuller side of things with round texture but a coarse vein of tannin. It's Old World meets the New, says Crux's Steve Gower, and I agree.
Terre Rouge 2011 Sentinel Oak Vineyard Syrah (Shenandoah Valley, Sierra Foothills, California) $40.
Tons going on here! A really aromatic burst of baking spice, black pepper, flowers, raspberry, leather, dried herbs, and dried cherry. A notable glimmer of salinity on the first sip, which almost primes you for a full body, lots of black pepper, and coarse tannin. All of flamboyant, muscular, and pretty, like a flexed and barely-clothed torso tattooed with elaborate flowers. #lifegoals?
Skinner 2013 Syrah (El Dorado, Sierra Foothills, California) $28.
86% Syrah, 9% Viognier and 5% Counoise. Supercharged ripe black fruit and prunes on the nose along with a bit of parmesan which counterintuitively adds to the sweet aroma. Almost veers into ambiguous Shiraz territory with the sluttier fruit compared to the previous wines in this flight, but the wine's structure contains everything nicely like a tight jockstrap.
Bonny Doon 2013 "Le Pousseur" Syrah (Central Coast, California) $26.
The immediate scent is sort of like opening the doors to a brand new car with a fragrant leather interior. Add spice, black fruit, a mouth-filling texture, and meatier flavours that reveal themselves at the end. Structured and long. Randall Grahm, winemaker and founder, believes that the Estrella River clone is the superior version of Syrah and that the newer clones are rubbish. Bob Lindquist of Qupé disagrees.
Wrath 2013 San Saba Vineyard Syrah (Monterey, Central Coast, California) $39.
A juicy and exuberant cocktail of gamy red and black fruit dusted with some spice, coffee, black pepper, and leather. Quite full, wild, meaty, and demandingly mouthwatering, with smooth tannins gliding onto a bit of maple bacon.
Caliza 2013 Estate Syrah (Paso Robles Willow Creek District, Central Coast, California) $62.
There's a dense and paradoxical elegance to this, like a shark swimming in layers of the ocean that sunlight can hardly reach. There are telltale signs of oak on the nose, whose almost-unbearable vanilla wraps around concentrated and brooding black fruit. The tannins are pronounced yet undemanding, and the acid fresh – they better be, because holy shit: 15.7% ABV. Kudos to the balance on this one.
Qupé 2012 Sawyer Lindquist Vineyard "Sonnie's" Syrah (Edna Valley, Central Coast, California) $55.
White pepper and spicy herbs in the forefront, along with game and oak. On the fuller side, and there's this subtle layer of subdued brightness and bruised red fruit – notably raspberries. Wine grandfather of Cantillon's Lou Pepe Framboise?
Jaffurs 2012 Bien Nacido Vineyard Syrah (Santa Maria Valley, Central Coast, California) $50.
Plenty of oak with deep, extracted, and brambly black fruit and dried fruit. Full and sticky, but has a meaty lift at the end. Certainly full and ripe, with a definite warming ghost on the finish, though the wine manages to keep some high acid going on. Hint of maple sweetness at the end. Enjoyed this more on the nose rather than the palate.
Stolpman 2013 Estate Grown Syrah (Ballard Canyon, Santa Ynez Valley, Central Coast, California) $30.
Not as beefy compared to every other wine – definitely ruled by crushed raspberry, strawberry, and joviality rather than brooding spicy fullness. Still has some Syrah gruffness on the palate, but it's the most brisk in the flight – probably why it unfairly feels a bit hollow. There's also a bit of a slightly yeasty and floral edge.
Rune 2014 "Wild" Syrah (Cochise County, Arizona) $50.
97% Syrah and 3% Viognier. Arizona! Ripe dark fruit, blackberry skin, chocolate, and maybe something a bit sweaty and untamed – there's something not entirely clean-cut or precise – but in a good way. I read the wine's description: lo and behold, the wine has been aged for 17 months on the lees. Densely-textured and full with just a sprinkle of ripeness on the palate, along with juicy acid and a savoury ending. What a meal.