Evolve Cellars
Three things immediately come to mind when I hear the word "evolve": Pokemon, Digimon, and evolutionary biology. My childhood aside, let's add Evolve Cellars to the shortlist for a potential fourth: my favourites among this Summerland quartet are the heftier rosé and red that seem to go against the predictable BC pattern of interchangeable off-dry rosés and the oft-disjointed reds. The red of the vintage prior to the current release won a gold medal at the 2015 BC Wine Awards; the wine's birth was crafted by Lawrence Buhler, winemaker. Huzzah.
The whites, though, along with the rosé, are part of Evolve's very first vintage release, the grapes being sourced from the Sundial Vineyard on the Black Sage Bench in Oliver, probably attributing the rounder, denser versions of the grapes. I get it.
Though just a tad unseemly before a Muse concert, seek out the whites for quiet soft rock; seek out the rosé and red for a little more bass.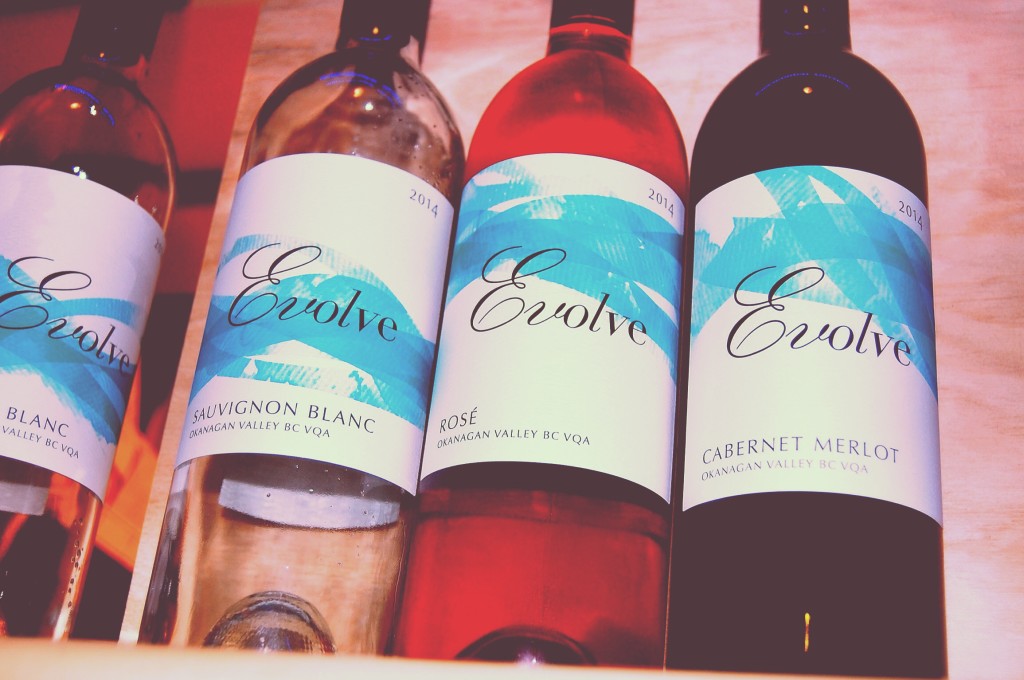 Evolve 2014 Sauvignon Blanc (Okanagan Valley, British Columbia, Canada) Dec 2015. ~$18.
Tasted semi-blind. Modest amount of gooseberry, kiwi, and a little bit of bubble gum on the nose, and then rather stony and creamy on the palate. Not super intense but there's enough substance here. Warming.
Evolve 2014 Pinot Blanc (Okanagan Valley, British Columbia, Canada) Dec 2015. ~$17.
Tasted semi-blind. Much more muted and dusty; vaguely citrus and floral-scented with a little more oomph on the palate. A little tough to discern the fruit, but the fullness and pillowy texture slightly make up for it.
Evolve 2014 Rosé (Okanagan Valley, British Columbia, Canada) Dec 2015. ~$17.
Potpourri, strawberry, and dried cherries. Has the same mouth-coating creaminess as I saw in the whites, and the wine is dry with unset cherry Jell-O and lots of pleasant flowery bitterness on the finish that lifts with some ghostly red fruit. Not sure what I would approximate this as – maybe, dare I say, a heftier Tavel? Rosé for red people? This tastes like a Beirut song set to a minor key.
Evolve 2014 Cabernet Merlot (Okanagan Valley, British Columbia, Canada) Dec 2015. ~$22.
Mostly earthy dark fruit, ripe plums, and a green-grey composite of ashy green peppers. Bright and medium-bodied with the same ripe flavours on the palate but with a meaty barbecue-accented finish. Gritty but approachable structure.