Canadian Wines with Rhodanien and Tuscan Influence
In August, I was invited to a tasting on two wineries with very specific philosophies and inspirations. Le Vieux Pin and La Stella are wineries linked by winemaker and ownership but emit different energies when it comes to their wines, the former evoking elegance and finesse, the latter evoking power and density. Both take inspiration from the Old World: it's clear that that Le Vieux Pin channels the Rhône, but La Stella channels Tuscany, and more specifically, from the beefy wines of the Maremma coast.
They manage to coax the personality of the grapes into a proper expression of the climate in a particular vintage – and without stretching the malleability of the grapes into anything that isn't intrinsic or primal. Pure and fierce, I guess, might be good words to use here. But probably Fierce like how Tyra Banks would say it.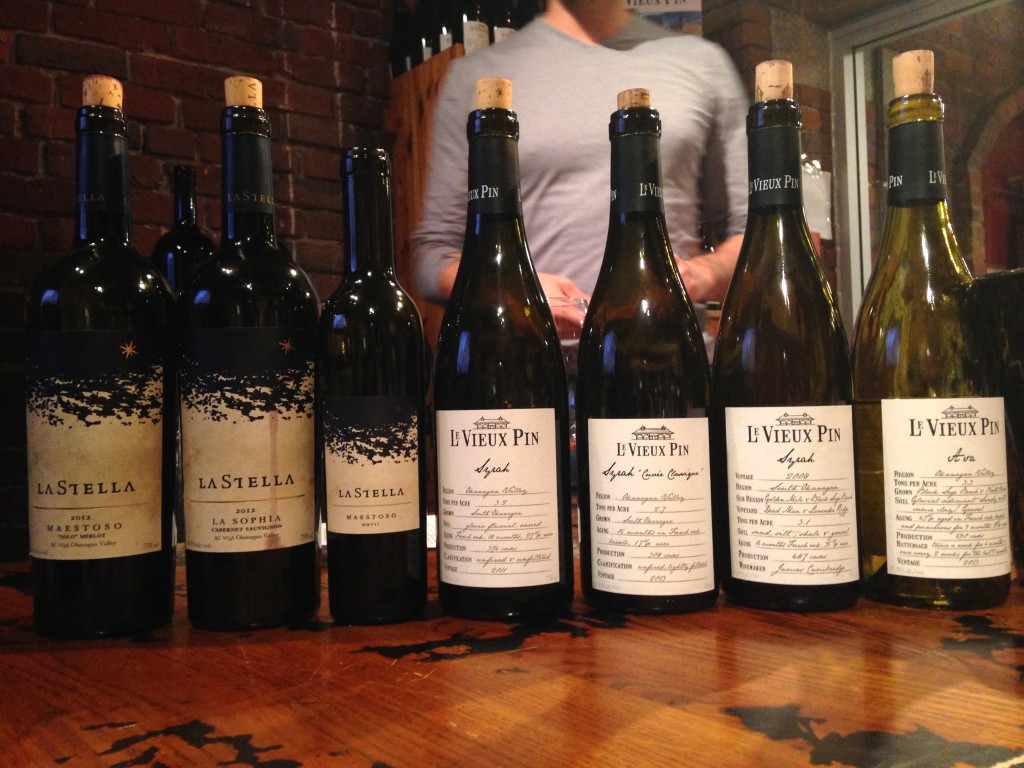 Le Vieux Pin 2013 "Ava" (Okanagan Valley, British Columbia, Canada) $34.90 @ winery
Viognier (50%), Marsanne (41%), and Roussanne (9%). White peach, nectarine, nuts, dried herbs, a hint of smoke, and a bit of petrichor on the nose. The palate is less fruity, and has this waxy, slightly pillowy character surrounded by bitter almond. A bit more of a phenolic structured finish than I remember in previous vintages.
Le Vieux Pin 2013 "Cuvée Classique" Syrah (Okanagan Valley, British Columbia, Canada) $49.90 @ winery
100% Syrah. Virtually all unfined and unfiltered. At first impression, there's lots of black fruit on the nose that frames a hint of cured meat, though the juicy blueberry, spice, and black pepper certainly take the forefront. Medium-bodied but condensed, with punchy earth and muscular broad tannin. Flowery perfume throughout, especially on the finish.
Le Vieux Pin 2011 Syrah (Okanagan Valley, British Columbia, Canada)
Much less bright-eyed than the previous, and much more mystical and intriguingly intoxicating. More white pepper, black olive, and game, along with a combination of both structure and finesse: perhaps a testament to the year. Subtly aloof yet wholly intentional and mind-embossing, like Stairway to Heaven by Led Zeppelin.
Le Vieux Pin 2008 Syrah (Okanagan Valley, British Columbia, Canada)
An echo of 2011's white pepper but a response of barnyard. Definitely meaty, but much more strawberry and raspberry instead of black fruit. Beautiful structure that doesn't overwhelm the sweetness of fruit. Vibrant and almost pulsating, with a burst of layers including meat and red fruit that finishes precisely and earthy, like a 5-second Shakespearean act.
LaStella 2012 "Maestoso" Merlot (Okanagan Valley, British Columbia, Canada) $99.90 @ winery
Subdued nose, but mostly iron, a hint of dark chocolate, and something coolly earthy, like peat. Distinctly not fruity but with some plum. A rugged tannic palate with acidity to match, though there's definitely no lack of flavour intensity to intersect both.
LaStella 2007 "Maestoso" Merlot (Okanagan Valley, British Columbia, Canada) 375mL
Quirky; a much different expression than the previous wine. Gummy black fruit; almost, literally, like wine gums. Full. A liquid expression of those gummy blackberry 5-cent candies; the high acid cleanses the ripeness, wrapped up by fine tannin. Fat, jolly, and eccentric.
LaStella 2011 "La Sophia" Cabernet Sauvignon (Okanagan Valley, British Columbia, Canada) $89.90 @ winery
Smouldering and muscular. Obvious cassis woven with wet cedar, hints of soy, and cola. The palate displays its rather full body, with ripe black fruit and fine but striking tannin. Impressive balance, though slightly tight; grippy but definitely worth exploring with age.