Vancouver International Wine Festival 2015: "Mod Oz"
It just feels slightly unfortunate that this seminar didn't sell out – I mean, if the idea of Australian Shiraz is being purportedly tired, why aren't we getting excited about every other fucking grape that can be grown there? Did you see Australian Grüner Veltliner coming? The answer is no. You didn't.
I mean yes – I tire my face out by tensing my eye sockets and resisting an eye roll every time someone says they "don't like Australian wine", which is somewhat fair considering that the market can be saturated with its own stereotypes. I suppose it's just good business sense, but there's so much potential past the generic back-of-the-bottle tasting notes that preach deep berry fruit, "smooth", and an empty promise that it'll pair well with barbecue. Bitch, please. But a handful of people raised their hand when the moderator for the event, Mark Davidson, asked the crowd if this was their first time tasting an Australian Pinot Noir. So it's possible that everyone's pretty happy where everything is and I'm just a combination of impatient and willing. And thirsty.
So the theme is essentially anything weird or against the grain, whether it be international grapes grown on Australian soil or weird modern blends or whatever. Really attracted to the whole idea, and I think that this was the seminar I was actually looking the most forward to.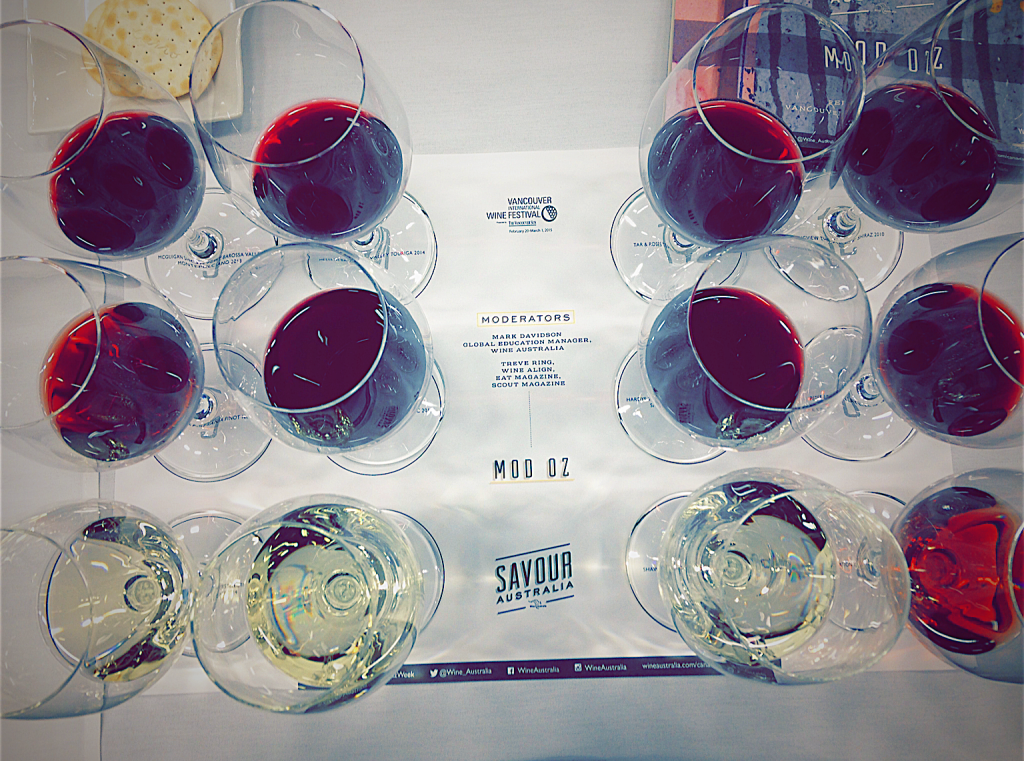 Not sure if it was the power of suggestion, but even after revisiting the Nepenthe 2014 Winemaker's Selection Grüner Veltliner after having tasted all of the wines, there was an intense celery root and white pepper flavour underlying the leesy lemon curd. Arguably more typical for the grape than other wines I've seen from its regular home in Austria. I thought the slightly creamy body added complexity but it was mentioned how this was "accidental", and that in future vintages they aim to make a fresher style made completely in stainless steel – there was some usage of (old?) oak barrels here that rounded out the more usual pointed character of Grün.
The Tahbilk 2013 "The Tower" MVR is a 60-25-15 blend of Marsanne, Viognier, and Roussanne. A Dream of Spring, mostly, with creamiscle and gardens, and a bit of a nectarine yogurt thing bringing visions of an Activia commercial. The palate is rounded with some tang on the mid-palate. Fairy lights. The Grüner from the previous wine illustrated new wines that were produced from vines only planted not more than a decade ago, but this wine was chosen to show that even pioneering wineries are still trying to push the envelope. Madonna, or something.
A woman in the crowd proclaimed that "that doesn't exist anymore", "that" being the irritating Anything But Chardonnay notion in the recent decade or so, as if the moderator had to issue some sort of a warning before people realized we were slated to taste a wine made from the terror-inducing Devil's Grape. If only it didn't exist, though – I still think a lot of people refuse to buy it like it has gluten – but the Shaw + Smith 2013 "M3" Chardonnay was fantastic, with a distinctively non-fruity nose that mostly brought to mind the burnt bits at the bottom of the microwave popcorn bag, with hints of spicy citrus zest and grilled pineapple. Fuller and creamy but with acid to balance out the scales, and much more savoury citrus on the palate. Just a splash of malolactic.
Part of the panel discussed the much-used line that Chardonnay can do well anywhere, and that it's actually just as finicky as Pinot. I'm inclined to debate, but I'm not a grape-grower, so I'll shelve the thought and let it grow.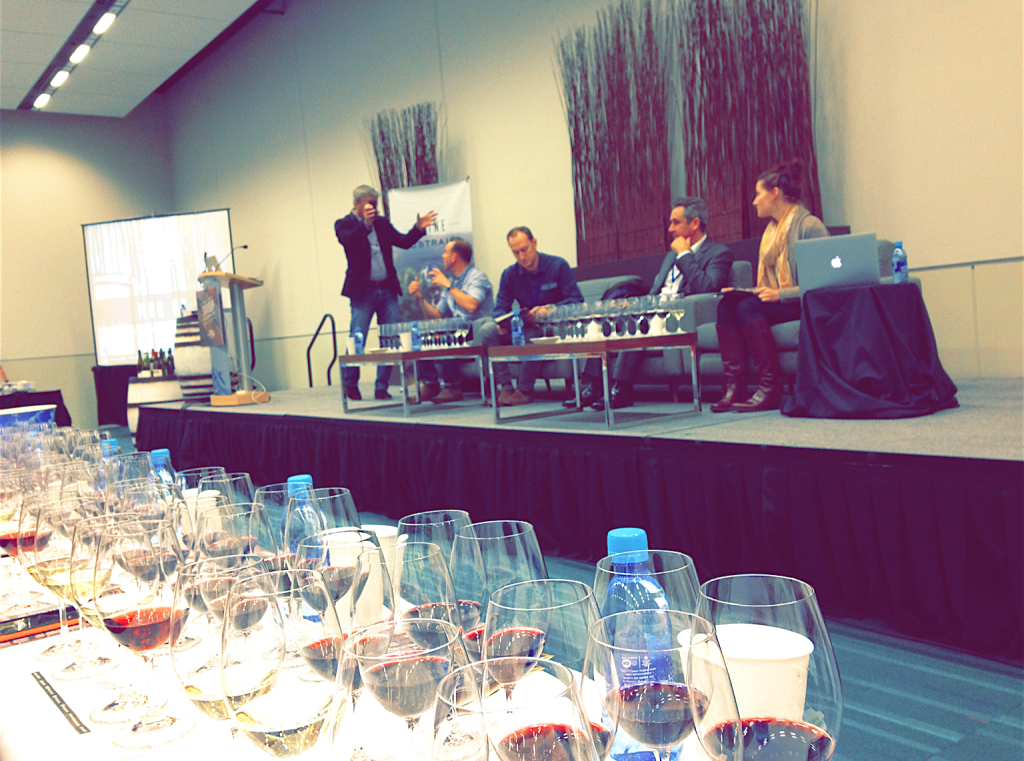 The Yering Station 2012 Village Pinot Noir from the Mornington Peninsula had aromas of ripe red fruit with bits of white pepper and pomegranate. Same fruits on the palate with more of a soft floral component. Perhaps too lightweight for me but agreeable and at least part-hedonistic. I've tasted the Abel's Tempest 2012 Tasmania Pinot Noir before in class, but I'm much more charmed by it this time around for some reason. Much more complex than I remember, with lots of red fruit. The fruit is less ripe but more dried compared to the Yering, along with some spice, oak, and floral perfume.
Someone I know equates Malbec to tasting like pen ink or new shirt dye and I definitely don't blame him but now it's all I can think about when I taste the damn grape. The Evans & Tate 2012 "Metricup Road" Malbec had this sort of inky asphalt entry with decaying leaves and asian spice along with blackberry skin and dust. For some reason it reminded me of a haunted house in the rain. Like mud and earth and dust and mysterious scrolls with fresh ink partially revealing clues to whoever murdered the blackberry merchant. I'm done.
There's this one butcher shop on my street around which I mentally create a no-go radius, because there's this one particular spot that has a vent with these acrid meaty fumes coming out of it. I swear that there's a hint of it in the Hardys 2012 "The Chronicles Butcher's Gold" Shiraz Sangiovese (or is it just because I'm seeing the word "butcher"), but there's also lots of dried herb and a dusty gravel sort of aroma that makes it more pleasurable. Lots of structure here, and quite drying.
The Peter Lehmann 2012 "Layers Red" is part southern Rhône cocktail and part Spanish Tempranillo. Mostly black cherry, cola, spice, dried flowers, and literally, a bit of what my glass smells like after I'm finished with a particular oaken gin. A sort of sweet cinnamon-herb smoke? Tannic but finely textured, and a vague smattering of both red and black fruits on the palate.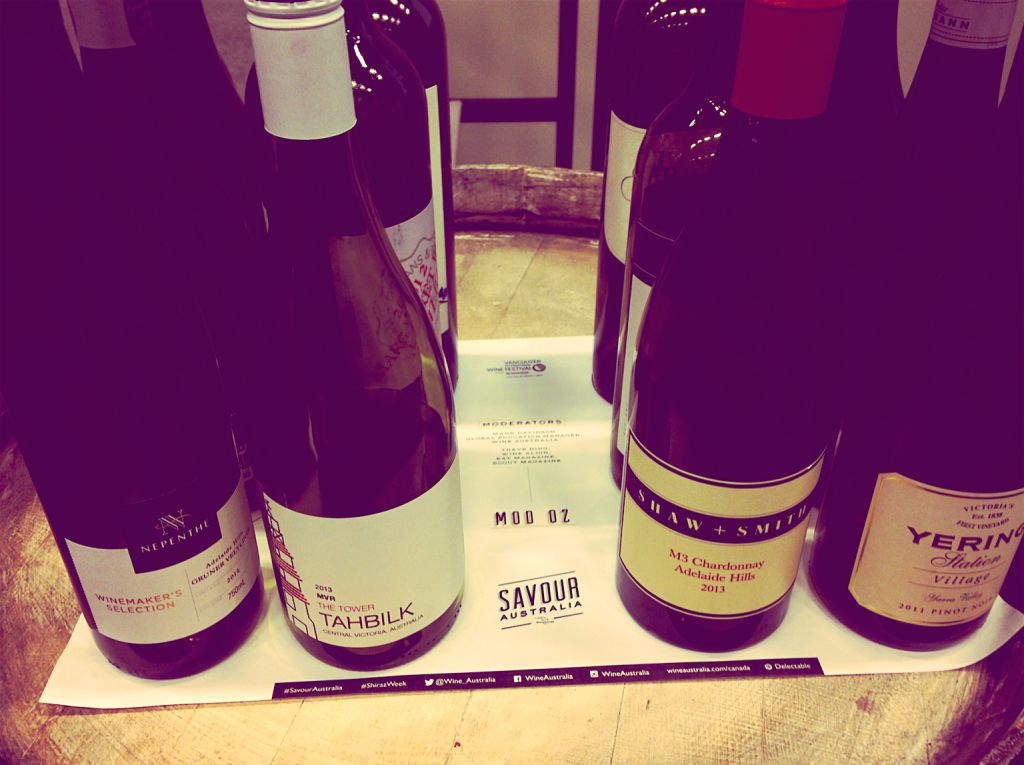 I was mostly excited to try the next three because they seemed the most fucked up of the flight (besides the Grün, and okay – the Malbec). I was actually really impressed by the McGuigan 2013 "Shortlist" Barossa Valley Montepulciano – jellied but not jammy, if that makes sense? Lots of dark blueberry and hints of vanilla, dried herbs, and something animally. Quite structured at the end and some blood orange on the finish. A central Italian grape that I definitely don't drink enough of.
The Hesketh 2014 Barossa Valley Touriga had an interesting Viognier-like floral note of bergamot which was super cool. More spice, sweet black fruit, and some Froot Loops. Super structured like most things in the flight, and quite concentrated. Personally, the most exciting wine in the flight (and perhaps of the whole festival), and of course it's not even available in our market. Yet. I haven't seen this flavour expression from the Touriga-based wines of Portugal, from which the grape comes. High hopes for this one, for sure.
I definitely love that the Tar & Roses 2013 Tempranillo is bizarre and complex but there was something I wasn't completely into. There was lots of bold earth, raspberries, and tar, but there's a hint of medicinal cherry syrup on the mouth that climbs through the chalky structure. I wrote down that it smells like someone's house. I don't get what I was trying to say.
Of course Shiraz makes up the last wine in a seminar titled "Mod Oz". What the fuck is so ~*mOd oZ*~ about Shiraz? The Longview Vineyard 2010 "The Piece" Shiraz is delicious, with hints of eucalyptus, cola, black fruit, and some soy and leather showing age without veering into total soy sauce territory. Pronounced chalky tannin and a fair amount of acidity join a viscous body, along with oxidized black fruit. 2 years of very well-woven French oak. If I remember correctly, the ~*mOd oZ fAcToR*~ comes into play because of the packaging which has a sort of street art Beastie Boys theme, and I remember hearing something about a sort of art competition they hold yearly for each vintage's label.
And a fascinating seminar concludes the wine fest. Time for beer. #FourWinds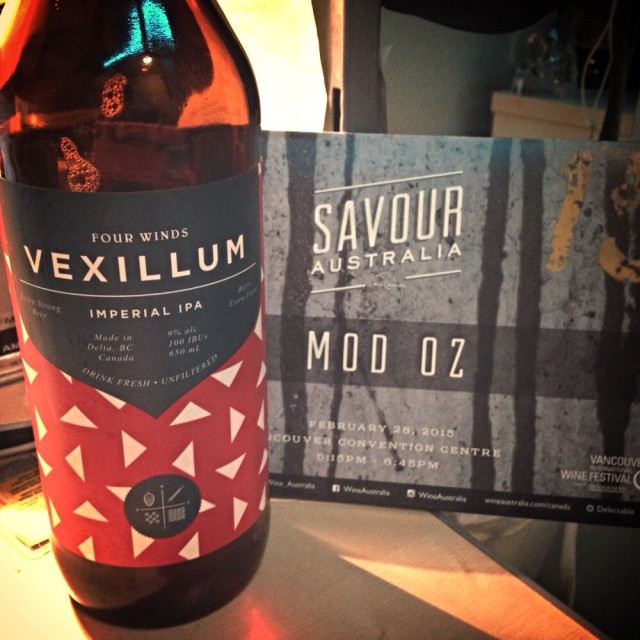 Moderators:
Mark Davidson – Global Education Manager, Wine Australia
Treve Ring – Eat Magazine, Scout Magazine
Panel:
David Lemire MW – Shaw + Smith
Mark Saturno – Longview Vineyard
Jonthan Hesketh – WD Wines