Chiantioja: 2002 Lopez de Heredia "Vina Tondonia" Reserva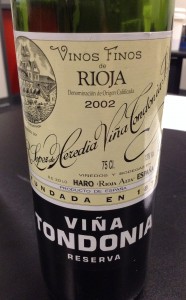 [Tasted during WSET Diploma – Unit 3 – Week 1]
Yeah! Rioja stunner on the first day.
In the first few wafts of the wine, you get this intoxicating and familiar savoury soy characteristic which sort of masks the dried red fruit and makes it seem more brooding than it is. That soy quality is a common benchmark in aged Rioja, for sure, but there's something about this that yelled Sangiovese to me. Both Chianti Classico and Rioja Reserva see oak, though the former sees a minimum of 7 months while the latter sees a minimum of 12 months. Oak is still something I struggle with, and I'm sure there's a wood joke in there somewhere that I'm not going to bother venturing because it seems suspiciously easy. Anyways.
The acidity was stunningly high as were the tannins – though the texture was soft and well-rounded from age. As per the nose, the palate also revealed fantastic dried herb and tertiary flavours that enveloped the brooding dried red fruit, which veered onto the darker black cherry tones. There was definitely some weird wavelength going on in the room since the classmate who read out her notes also guessed a 7-year-old Sangiovese, though I went with Chianti Classico and she went with Brunello di Montalcino. I feel like there's a slight imbalance with the alcohol and acid, but that's just me being picky.
Fully developed, the instructor said, so there's really no room for this wine to go anywhere from ageing. I mean, I suppose you can try, and it will change in some way, but it's beautiful now. Apparently 2002 wasn't such a great vintage for Rioja, which I find surprising given this stunner.
Tasting Note:
Eyes: clear, med garnet, legs
Nose: clean, med+ intensity, developed, black fruit, dried red fruit, black pepper, soy, leather, savoury, black cherry, dried strawberry, dried herbs, woodiness, wet leaves
Mouth: dry, med body, high acid, med+ chalky tannin, med alcohol, soy, leather, black cherry, nutty finish, savoury.
All in all: Very good quality: the wine is complex in its tertiary characteristics. It has an intense character that finishes through the long finish, but points are lost for the slight imbalance in acid and alcohol. Drink now: not suitable for ageing or further ageing.
Identity Guess: High-priced Chianti Classico from Tuscany, Italy; 7 years old.
Is really: Premium Rioja Reserva from Spain; 12 years old.
Producer: Lopez de Heredia
Designation: "Viña Tondonia"
Region: Spain
Sub-Region: Rioja DOCa
Variety: Tempranillo (75%), Garnacha (15%), Mazuelo and Graciano (10%)
ABV: 13%
Vintage: 2002
Tasted: October 6, 2014
Price: $54