Loras Tyrell, the Knight of Flowers: 2010 Kettle Valley Semillon Sauvignon Blanc
Tasting Note:
Eyes: clear, med lemon, legs
Nose: clean, med+ intensity, youthful, herbal, grassy, floral, ripe grapefruit, citrus rind, hint honey, hint butterscotch, nectarine, lemon
Mouth: dry, full body, med+ acid, med+ alcohol, long length, med+ to pronounced intensity, ripe grapefruit, nectarine, mineral, citrus, lemon, citrus rind, honey, savoury
All in all: Good (to very good) quality: the wine gains points for intensity in flavour and texture, while length is also a plus. The wine lacks a bit of alcoholic balance. Drink now, but has potential for short-term ageing.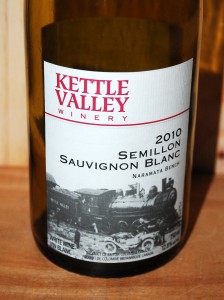 An interesting day deserves interesting wine. Or does it, because it's 10PM on a Saturday and all I want to do is be boring and sleep. I'm an exciting 22-year-old.
I had tried this exact wine for the first time just two days beforehand, and I remember it being fantastic. So fantastic, that I had to snag a bottle for my own to either revel in the newfound glory of a BC wine I might actually crave for once, and also to confirm and do a double-take just in case that moment might've been crazy and ephemeral. So I happened to grab a bottle of this after having drinks with old friends – and then beers happened – which was probably not so much of a good idea. I mostly remember drunkenly eating fish tacos, dipping fries in ketchup, and yelling at my best friend and then demanding selfies be taken. Cough.
As an attempt to mirror the first time, I opened this closer to room temperature with just a slight chill. Upon viewing, I remember the wine being slightly darker in colour – though I'm not doubting the fact that the first bottle could have been a bit more oxidized (in a good way). I also remembered that the nose was much more – to put it crudely – interesting. Some facets still remain – there are aromas of juicy grapefruit, an herbal-floral character, and an underlying hint of honey and tangerine – but something tells me it was much more intense and honey-driven on the nose the first time around. Perhaps it was just outstanding compared to the other wines in the lineup. Or maybe I'm just horrendously tired? Who knows.
The palate matches up much more correctly in my memory – there is a surprisingly intense opening of ripe and almost candied citrus and grapefruit, with juicy acidity and citrus rind flavours falling into a savoury and long dry finish. Impressively, there is a considerable amount of body which makes me marvel at the moderate 12.8% ABV, but this oddity is weirdly double-edged, and the back-palate ends up being quite boozy. That one friend you think doesn't drink but ends up being the one doing the most shots during that one spring break? This wine. Also this wine: the knight of flowers, because floral and citrus characteristics aren't often coupled (or thought to be coupled) with unctuousness or brawn. And also because I'm still hung up on the fact that there won't be any Game of Thrones for a good year or so.
The odes to the white Bordeaux blends are almost overdone yet robust versions are often underrated. I often crave the summery Sauvignon Blanc characteristics with the forbearing qualities of a peaty scotch or buttery Chardonnay by the fireplace (in this case – Semillon), and sometimes the heavier versions of white Bordeaux do just that.
Like today was actually fine, but my emotions started to falter in the middle of it for no valid reason like a random bug in the code.
(Also interesting: partial barrel fermentation in old French oak.)
Producer: Kettle Valley
Designation: N/A
Region: Canada
Sub-Region: Naramata Bench, Okanagan, BC
Variety: Semillon, Sauvignon Blanc
ABV: 12.8%
Vintage: 2010
Tasted: June 21, 2014
Price: $28