Sandor "The Hound" Clegane: 2010 Máté "Mantus" Merlot
Tasting Note:
Eyes: clear, deep purple, legs
Nose: clean, med+ intensity, developing, dried red fruit, dried black fruit, earth, mineral, black cherry, dark chocolate, hint barnyard, spice, cloves, cinnamon, fruitcake, blackberry, plum, white pepper
Mouth: dry, med+ body, med+ acid, high slightly coarse tannin, high alcohol, med length, med flavour intensity, earth, dried red fruit, black cherry, mineral, spice
All in all: Good (to very good) quality: the wine shows promise with a complex nose with concentrated and intense flavours. But the tannins tightly close around some of the flavours. Can drink now, but has potential for ageing.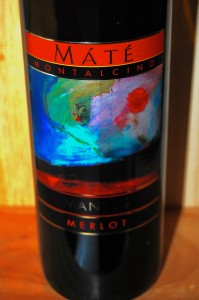 Holy shit is this potent at 15% ABV. But overall, the aromas are a little less boisterous, and you can imagine the level of spice that emanates from this alcoholic bombshell.
Along with spice, there are plummy farmyard aromas, dried red and black fruits, and a strong dusting of dark chocolate. A liquid black forest cake. The palate isn't exactly as viscous as you would expect for a higher-proofed wine, but the velvety juicy body is eventually shooed away by the flexed muscle tannins, and I suppose that's generally expected for an Italian red. The complex flavours are a bit more muted on the palate as a result, and something tells me this could age. So, an edit: a liquid black forest cake but with chunks of bear-shaped bark.
It's sort of like those scenes in Game of Thrones (season 4 spoilers!) that revolve around The Hound, who's this big and scary (yet pretty badass) guy with half of a real face, but now and then he has these sort-of fuzzy soul scenes between either Sansa Stark or Arya Stark that either make you roll your eyes or make him more of a likeable character (or both). Which just means he's probably going to eventually die anyways. Thanks, author.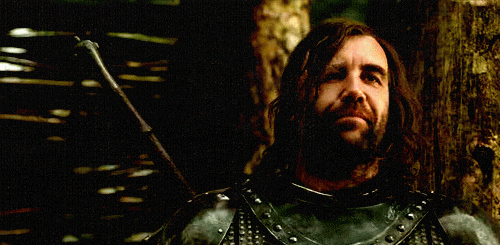 But it's pretty cool, because I hardly find any Merlot that dares to be some form of rough.
The wine does find some sort of balance between tannin and fruit. If the fruit on the palate still feels slightly locked away, I can't imagine how this would taste when it was first released. It feels like there's fur growing  on the inside of my mouth. And despite 15% ABV, the wine is impressively balanced.
It's macho, velvety, and rough, all in one go.
Producer: Máté
Designation: "Mantus"
Region: Italy
Sub-Region: Sant'Animo DOC, Montalcino, Tuscany
Variety: Merlot
ABV: 15% (!!!)
Vintage: 2010
Tasted: January 24, 2014
Price: $30