Elementary school crush: NV Taylor Fladgate Fine White Port
Tasting Note:
Eyes: clear, med+ gold, legs
Nose: clear, med intensity, youthful, sultana raisin, spice, baked citrus, mineral, hint nutty
Mouth: sweet, full-bodied, med- acid, high fortification, med flavour intensity, sultana raisin, mineral, baked citrus, nuts, med length
All in all: Good quality: this uncomplicated and simple white port doesn't have numerous flavours, but it's balanced, fairly intense, and has a quaffable nature. Drink now, not suitable for ageing.
Identity Guess: Mid-priced White Port.
Is really: Mid-priced White Port.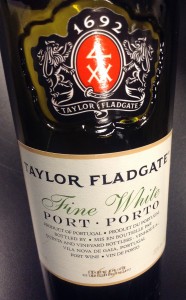 [Tasted during WSET Diploma class – Section 2 – Week 6]
With all the talk about white port in class and all the things that you read in wine books and articles (with the words about white port being this sort of forgotten/cheap/shitty/weird fortified wine), I've always been interested to try it but have always been more than afraid to commit to buying an entire bottle (even at the mere price of $22). So I was more than excited to see its whiteness (or goldness, rather) poured into the glass, especially because I think this might be the only one in the local market. I wasn't even sure what it would taste or smell like. Citrus? Raisins? Vanilla pudding? Mangoes? Puppies? Toothpaste? Steak?
It was interestingly youthful, and surprisingly not very intense, with mostly vague hints to sultana raisins, spiced notes, and baked somethings rather. There was a hint of something tropical or ripe – peach? Mango? Not particularly exuberant enough for me to really match it up. But there was a marked mineral quality which I also couldn't exactly define – but it was definitely there. Along with hints of nuts, but nothing wild. Very unique, though.
The wine was essentially a flabby and unserious delight, with a syrupy body that didn't overly cloy, thank goodness. The instructor displayed this in the flight of six so that we could mentally compare this to other white fortified wines: this clearly wasn't the nutty waltz of Sherry nor was this the floral or flamboyant prance of something Muscat-based, so this filled a different niche entirely. Sweet and weird and minerally but not overly fruity. I'm fearing having to buy this again just to come up with proper descriptors, only because I know I can't finish this by myself and no one would want to finish it with me.
Producer: Taylor Fladgate
Designation: Fine White
Region: Portugal
Sub-Region: Douro
Variety: Blend
ABV: 20%
Vintage: NV
Tasted: February 12, 2014
Price: $22