Liquid infatuation: 2011 Cockburn's Vintage Port
Tasting Note:
Eyes: clear, deep purple, legs
Nose: clean, med+ intensity, youthful, dark fruit, blackberry, bramble, jam, spice, blueberry, cassis, earth, prune
Mouth: sweet, full bodied, med+ fine tannin, med+ acid, med+ flavour intensity, dark fruit, blackberry, bramble, blueberry, jam, cassis, earth, hint dark chocolate, spice, med+ length
All in all: Very good quality: this vintage port is still very young and fruit forward, but it exudes bold and opulent fruit that persists – and though fiery – alludes to some form of balance.  Too young. (though I honestly enjoyed it)
Identity Guess: Premium Vintage Port, ~4 years old.
Is really: Premium Vintage Port, vintaged 2011.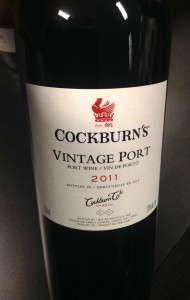 [Tasted during WSET Diploma class – Section 2 – Week 6]
I don't know – I'm young and dumb, perhaps explaining why I enjoyed this newborn port more than some of the others in the flight. There are times when I can't decide between "ruby" and "purple" by WSET colour standards, but this was a viscous liquid that legitimately and lazily left a film of violet on the inside of the glass, the last bits of the wine refusing to even fall out entirely. Kind of like how infatuation sickeningly refuses any accessibility to your senses or reality.
HA. It doesn't help that the name of the port house is "Cockburn's" with all these comparisons. Can I start new sommelier slang? "Ugh, he's such a Cockburn's vintage 2011 if you know what I mean."
It smelt and tasted exactly how it looked, with lusty dark fruit notes reminding me of some heavily extracted still Californian and Portuguese reds. Intense and ripe dark fruits mostly shrouded my nose and taste buds – there was almost none of that nutty, spicy, oxidative, and chocolate character that you get out of aged vintage port.
There was the comment that all young and serious port will be like this, with an extracted and intense character involving tannins, acid, alcohol, and flavour in fiery disharmony. Young vintage port is perhaps one of the better poster children in describing a wine whose elements really need the time to fit into each other, develop the flavours, and become balanced. That being said, I quite enjoyed this, but I might as well stick to the big extracted Californian and Portuguese reds if I want to avoid a hole in my wallet. Or diabetes.
And then I got excited when I realized I could buy one of these famed vintage ports – since 2011 has been one of the best years in history – then open it on something like a wedding night, and then I realized that this would probably just depress me. What do I know? I'm still a young port.
Producer: Cockburn's
Designation: Vintage
Region: Portugal
Sub-Region: Douro
Variety: Blend
ABV: 20%
Vintage: 2011
Tasted: February 12, 2014
Price: $85.50