The Two-Day Crush: 2012 Sacchetto Pinot Nero
Tasting Note:
Eyes: clear, med- ruby, legs, (med viscosity)
Nose: clean, med+ intensity, youthful, red fruit, fruity, strawberries, raspberries, earth, mineral, spice, hint cola, jam, floral
Mouth: dry (almost off-dry), med- body, low acidity, med- coarse tannin, med+ flavour intensity, med alcohol, med- length, red fruit, strawberries, hint cherry, mineral, cola, brush of dark fruit, hint herbal, velvety
All in all: (Acceptable to) Good quality: the wine's strength lies in its hedonistic and varietally correct intensity, though there is a lack in length, complexity, and structure. Drink now; not suitable for ageing.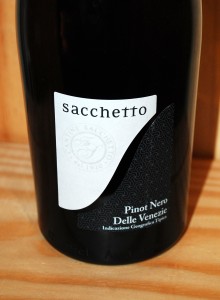 For a bottle surrounded by mostly rustic Italian wines of sour cherry earthiness – here, we have a wine that maybe seems more than a little out of place. A colleague and I decided to choose bottles of wine for each other that we've never tried, and so she settled on choosing this bottle for me. Why not? I chose for her the 2008 Broquel Bonarda, and she chose for me this. Today, I thought I'd enjoy this light bottle of wine for when the going gets tough. And by going, I mean working on the busiest night of our alcoholic year. New Year's Eve, I'm ready for you.
Though this wine has dustings of earth, the character of the wine is centrally hedonistic in nature. The nose smells mostly of red fruits with backseats of spice, and the lower acid shamelessly reveals the sweet raspberry and strawberry-dominated palate with a quick savoury/balsamic lift, like a person literally tearing off their clothes. The only thing that really speaks Italy to me are the slightly coarse med- tannins, but even those are hard to pay attention to with the sweet juicy fruit dashing its slutty smile. It's almost off-dry because of the low acidity, and the alcohol is almost out of balance for being a mere 12.5%. (I suppose we can play the "Europe 2012 vintage" card?)
But there's something interestingly compelling about the wine. It's really not that complex or mind-shattering, but it's quaffable and friendly without being dilute. It's a great wine for the (red) wine newbies – there's a ripe crowd-pleasing quality that the Old World fanatics will most certainly upturn their noses to, but the wine still retains some small level of depth. It's weird. I kinda like it. I kind of hate it. It's a delicious train wreck.
It's a surprisingly playful wine for such a monotonic bottle. But I guess we all know that person.
Producer: Sacchetto
Designation: N/A
Region: Italy
Sub-Region: delle Venezie IGT, Friuli-Venezia
Variety: Pinot Noir (Pinot Nero)
ABV: 12.5%
Vintage: 2012
Tasted: December 20, 2013
Price: $20