2010 Redtree Petite Sirah
Tasting Note:
Eyes: clear, med+ purple, legs
Nose: clean, med+ acidity, youthful, black pepper, damson, jam, raspberry, red fruit, spice, vanilla, earth, black cherry, cloves
Mouth: dry, med body, med+ acid, med+ fine tannin, med alcohol, med flavour intensity, med finish, black pepper, jammy red fruit, raspberry, blueberry, ripe
All in all: Good quality: has rich and concentrated jammy fruit that doesn't veer onto the depths of confection. The wine has a good amount of structure, but the finish is slightly overripe. Drink now; not suitable for ageing.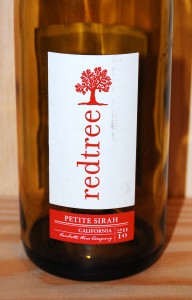 I am not one to cradle Petite Sirah out of all grapes. Petite Sirah, a crossing between 1880 Peloursin and Syrah (also called Durif). I've never loved a wine that Petite Sirah has touched – it's not unusual to find this in a jammy (and sometimes confected or even off-dry) Californian Red; more than a few examples have been enough to condition me away from it. How dangerous.  Courageous hipster grape evangelizers like Jennifer-Simonetti Bryan MW (who recommends the Bogle Petite Sirah in so many of her articles and interviews) always kept my mind open.
To me, Petite Sirah is to Zinfandel and Syrah as Pinot Blanc is to Chardonnay and Pinot Gris – there are some common links, but the latter grape lives in the shadows and the good (and apparently sometimes long-lived, for Petite Sirah) examples of the grape can be tough to find in some markets – but they exist, and they are justifiably good.
Back to the grape analogy – Petite Sirah has that baked fruit characteristic that you might find in a grape like Zinfandel, but can still have more structured mouthfeel which is more akin to Syrah.
This wine is a good example of a sub-20 version: baked red and black fruit supported by vanilla and cloves. The palate echoes the flavours, but the structure might be deceiving for those who expect a texture as soft and easy as the jam flavours: instead, a large amount of ripe tannins and a well-balanced acidity structure out the wine, but the finish is a little imbalanced. There is a slight bitter attack and a bit of a persistence of such flavouring throughout, but it's inoffensive and generally contributes to a rougher character.
I do say that this is good value, but there is the caveat that people who like these wines usually pay around this much for these styles of wines, anyways. This is not for the Old World worshippers, nor the people looking for a bottle of elegance.
For some reason, this is exactly the kind of wine I picture Game of Thrones characters drinking on the show. And I drool and get jealous, which is why I bought this wine. (Although watching the show, their winemaking methods would seem aerobic and oxidized to me – perhaps more Spanish in character.)
Producer: Redtree
Designation: N/A
Region: USA
Sub-Region: California
Variety: Petite Sirah
ABV: 12.5%
Vintage: 2010
Tasted: June 2, 2013
Price: $16