2011 Andrea Oberto Barbera d'Alba
Tasting Note:
Eyes: clear, med+ ruby, legs
Nose: clean, med intensity, developing, earth, spice, dark cherry, pepper, cinnamon, nutmeg, dried fruit
Mouth: dry, med body, med+ acid, med- tannin, med+ alcohol, med+ finish, earth, spice, dark cherry, sour cherry, tartness, strawberry, med flavour intensity
All in all: Good quality: the length of the wine is relatively long, but the intensity and power of the flavour characteristics are what propel the wine. Unfortunately, both the acid and alcohol are a little bit off balance, and the nose is dominated by a smoky spice which mitigates other complexity. Can drink now, but has potential for short term ageing.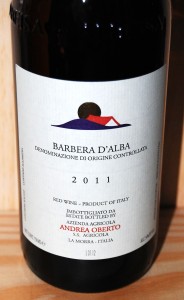 Yay! I chose this wine to celebrate my year's 1st birthday (although let's be real here this was just an excuse to open something), and so here I am. Barbera tends to be a bit of a happier, easy-going grape variety – generally, its low tannins are matched with a high acidity, and concentrated red fruit and smoky flavours from possible oak join in the mix.
This is the general recipe, though, especially with Barbera d'Asti, which tends to be softer and more supple. Barbera d'Alba is the stronger and perhaps eviler twin of the two main Barbera, with much more power and darkness.
I'm not sure with this wine. I always say this – but maybe it's because I'm not drinking Barbera enough (or perhaps this is typical Barbera d'Alba) – the wine almost tastes like Barbera is moving towards the brink of evil. The spice and smoke on the nose dominate the dried fruit on the nose, and the acidity makes sure that you know its there with a tart kick at the back palate. The alcohol also makes itself present.
That being said, the ripe tannins are woven in quite nicely, and the balance itself is  generally good.
I would elaborate but I found the bottle empty the next morning. Eh, well. Everyone in this house drinks too much.
Producer: Andrea Oberto
Designation: N/A
Region: Italy
Sub-Region: Alba, Piedmont
Variety: Barbera
ABV: 14%
Vintage: 2011
Tasted: May 2, 2013
Price: (somewhere in the mid twenties – $24? I'll update this once I find out exactly)