2008 Schramsberg Blanc de Blancs
Tasting Notes:
Eyes: clear, pale to med- lemon, aggressive froth upon pour
Nose: clean, med+ intensity, mineral, citrus, reserved fruit
Mouth: dry, med+ body, med+ acid, med+ to long length
All in all: Very good quality; drink now, but has potential for ageing.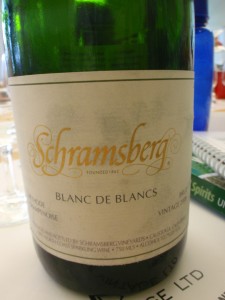 Sheesh. I'm wishing I had more time to get to know the sparkling wines better because we were rushed through them due to time constraints. Oh well.
I later tried a Schramsberg Blanc de Noirs (2007 vintage, I believe) some time later that autumn (for an amazing send-off dinner for a friend), and I remembered why I loved Californian sparkling wines. Unfortunately the information from trying the 2008 Blanc de Blancs didn't sink in well enough, and I didn't realize that I've tasted a wine from this iconic producer in the past.
Although the Blanc de Noirs was definitely fruitier and fuller bodied than say, a typical Champagne, this wine was more akin to the French version of traditional method sparkling wines, being more reserved in its fruit and autolytic character. This had a bit more weight compared to the 2004 vintage Blanc de Blancs we had.
All in all, this was delicious. This can easily age to evolve with more character.
Producer: 2008
Designation: Blanc de Blancs
Region: United States
Sub-Region: California
Variety: Chardonnay
ABV: 12.7%
Vintage: 2008
Tasted: June 11, 2012
Price: $51