2010 OKV Vineyard Select White
Tasting Note:
Eyes: clear, pale lemon
Nose: clean, med- intensity, youthful, ripe pear, sweaty
Mouth: dry, med bodied, med- acid, short length, med+ alcohol, med- intensity, green apple
All in all: Good quality, drink now.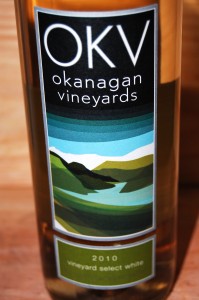 A popular 10 dollar blend. Why not give it a go?
I'm not entirely sure of the details, but apparently this wine is owned by Vincor (now apparently known as "Constellation Brands"). Being VQA, I wouldn't be surprised if this wine is made from leftover grapes or sloppy seconds from the various BC wineries part of their portfolio.
The nose is as expected, but vaguely interesting. A light wave of ripe pears is what I mainly get, but there is a layer of interesting yeasty sweatiness that I recognize from none other than beer. It's hard to say what it is. I guess the whole thing smells like fermenting pears.
Weirdly enough, the thing that stands out about this wine is that it's not entirely watery. It has a fair amount of body. Although everything else shouts cheap – lower acid, boozy, short length, lower intensity – it's inoffensive. It gives the impression of balance, but the lack of more acidity and flavour concentration is evident. Is this worth 10 dollars (in the BC market)? I would think so. It's boring, but what do you expect? Definitely better than some other plonk for around this price point, some of which have a vague misplaced Moscato nose and a watery palate.
Producer: OKV
Designation: Vineyard Select White, VQA
Region: Canada
Sub-Region: Okanagan Valley
Variety: lol who knows
ABV: 12.5%
Vintage: 2010
Tasted: March 21, 2013
Price: $10